"I would describe my style as eclectic, as I draw inspiration from my personal environment, such as my family and my dog, as well as art historical paintings. My works often include a mix of seemingly unrelated motifs, which can be puzzling to outsiders. However, I do not consider my work to be surrealistic, but rather symbolic puzzles."
The Artistic Journey of Elke Scheu: From Wuppertal to the World
For Elke Scheu, delving into the depths of introspection and articulating her artistic creations can be a formidable undertaking. Nevertheless, in order to fully grasp the complexities of her art, it is imperative to delve into her background and the influences that have shaped her as an artist.
Elke, born in 1953 in the bustling German city of Wuppertal, was raised in an environment steeped in artistic expression and creativity. Her parents were renowned puppeteers, and her older sister, who was a formidable 17 years her senior, served as a constant source of inspiration and mentorship. As a child, Elke was captivated by her sister's constant painting and drawing, and this early exposure to art would go on to shape her future career path.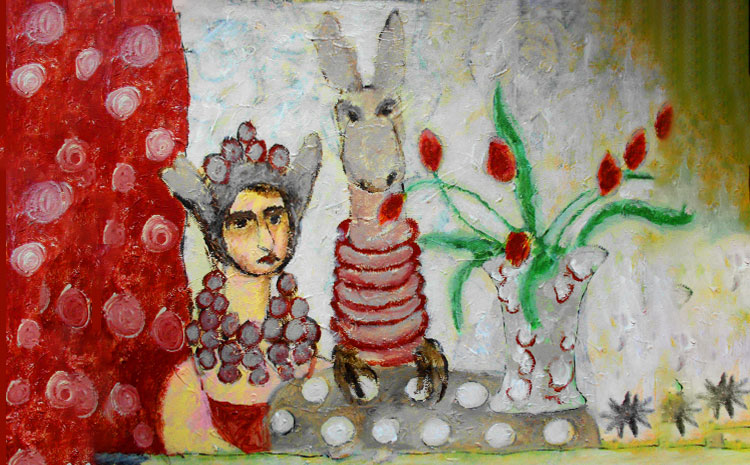 From Backstage at the Puppet Theater to Personal and Thought-Provoking Pieces
Growing up, Elke was constantly surrounded by the sights, sounds, and creativity of her parents' puppet theater. She would often assist backstage, participating in set design and prop-making, and it was here that she first developed a passion for creating her own art. She would often spend hours sketching and painting, honing her skills and experimenting with different techniques and styles.
Elke's work is deeply personal and reflective of her own experiences and emotions. She frequently delves into themes of identity, self-discovery, and the human condition in her art. Her pieces are characterized by a sense of raw honesty and vulnerability, which is both moving and thought-provoking.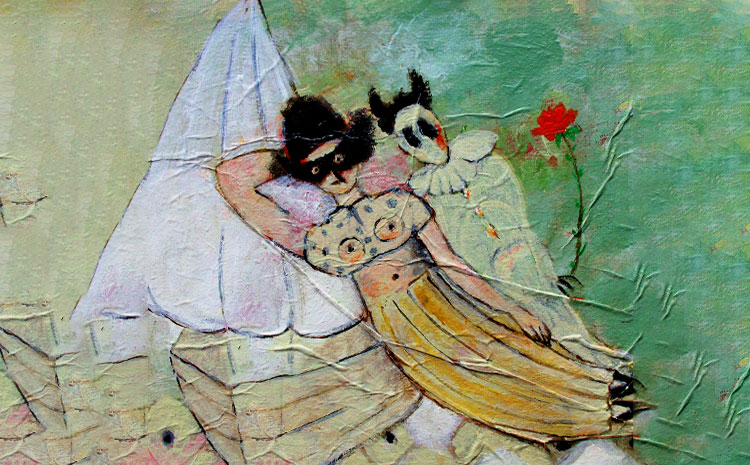 From Düsseldorf Academy of Arts to Self-Employment as an Artist
Elke's passion for art led her to pursue studies at the esteemed Düsseldorf Academy of Arts from 1972 to 1979, where she honed her skills under the tutelage of renowned professor Schwegler. However, upon completing her studies, Elke was met with the harsh reality of the struggles that many artists face in finding gainful employment. She took on various jobs, but the demands of these positions often left her little time to focus on her true passion. Eventually, in 1990, she became self-employed, running her own flower stand. While this allowed her to focus more on her art, the demands of running a business often made it difficult to balance her creative pursuits with her livelihood.
Despite these challenges, Elke's passion for art has never wavered. Throughout her career, she has drawn inspiration from a wide range of sources, from the works of renowned painters such as Pieter Brueghel and Hieronymus Bosch, to the naive votive paintings of Mexico, and even medieval paintings and vignettes. Her artistic style is eclectic, and her works often incorporate a mix of seemingly unrelated motifs, which can be puzzling to outsiders. However, as Elke notes, her goal is not to create surrealistic works, but rather symbolic puzzles that allow her to explore the depths of her imagination.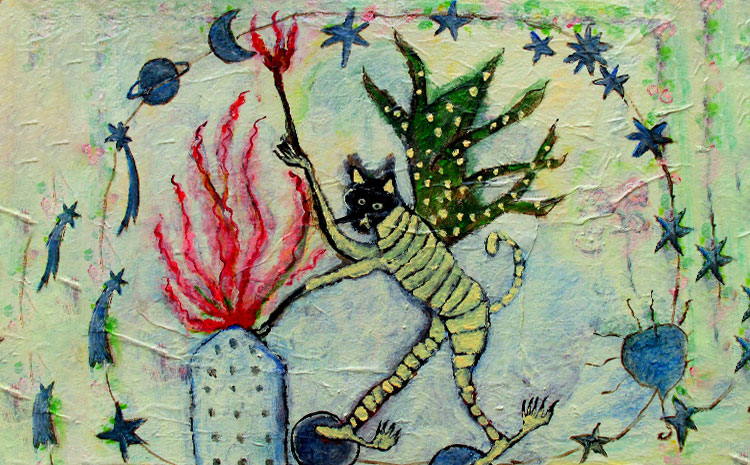 Navigating the Impact of Social Media and Lockdowns
Over the last few years, Elke has experienced a significant increase in her productivity as an artist. This can be attributed to a number of factors, including the advent of social media and the prolonged lockdowns. Social media has provided her with a platform to showcase her art to a wider audience, and the lockdowns have given her more time to focus on her craft.
Elke is constantly pushing the boundaries of her creativity, experimenting with new techniques and mediums, and constantly seeking new inspiration. Her art is deeply personal, and she is always striving to express herself in new and exciting ways.
Despite the challenges she has faced in the past, Elke remains steadfast in her passion for art. Her determination to make her mark on the world is evident in every stroke of her brush, and she is driven by the desire to create something truly unique and meaningful.
As she looks towards the future, Elke is excited about the possibilities that lie ahead. She plans to continue to evolve as an artist, taking her work in new and unexpected directions. She is also determined to inspire others with her art, and to make a meaningful impact on the world through her work.