"Finding ways to be with others through creativity has always played a big part in my life."
A Kaleidoscope of Influences
Duwenavue Sante Johnson is a BIPOC artist with a rich heritage spanning both the northern and southern regions of the United States over the past four centuries. Raised as a dependent of a military personnel in the Air Force, Johnson had the privilege of globetrotting from the tender age of three, journeying from California to the Rhineland in Germany. This diverse upbringing has significantly shaped Johnson's artistic lens, fostering a relentless quest for equilibrium, aesthetic allure, and steadiness within her masterpieces.
Possessing exceptional talent in hand embroidery and contemporary art, Johnson does not limit herself to any single medium. Instead, her artistic style is a beautiful tapestry woven from her extensive travels, absorbing a spectrum of hues, environmental motifs, and textures from every corner of the globe. Johnson ingeniously merges a variety of painting and textile methods, harmonizing the wisdom acquired from formal instruction with the cultural elements that have molded her character.
In her role as an educator and expert in needle arts, she dedicates her energy to the meticulous and elaborate details embedded in Heraldry. Johnson generously imparts her expertise on the symbolic foundational principles, design formulation, and stitching methods, while accentuating the importance of artisanship in her presentations.
Johnson's journey towards becoming an artist was fueled by her mixed-race heritage and the experience of seldom encountering individuals with similar backgrounds. This propelled her to seek avenues for forging connections with others through the medium of creativity.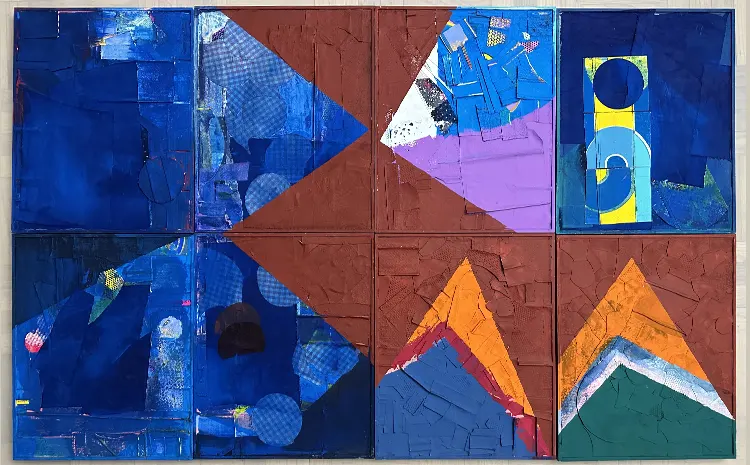 Duwenavue Sante Johnson: From Bangkok to New Delhi: A Journey of Self-Discovery
Duwenavue Sante Johnson has always found inspiration in the resilience and narratives of others. Her journey into the art world commenced with an apprenticeship in Bangkok, where she was mentored by artists serving the Royal Thai national painter, Chakrabhand Posayakrit. Initially focusing on mural arts at Wat Tridhosthep Worawihan, Johnson later transitioned to textile arts in Shantiniketan and New Delhi, India.
In her artistic practice, Johnson grapples with themes of manifest destiny, migratory freedoms, and misplacements, all while envisioning and contributing to a better world. This involves engaging with the historical and contemporary pathways that have shaped our collective journey. She seamlessly incorporates various styles of painting and textile work, drawing from both her formal education and cultural influences. As a professional in needle arts, Johnson meticulously maintains precision and detail in the art of Heraldry. She is driven by a desire to promote the value of craftsmanship and hand embroidery as a form of wellness.
Painting and printmaking serve as Johnson's natural mediums of expression. She actively engages in a dialogue through watercolor and gouache mediums, utilizing handmade stencils to add texture and depth of color on silk fabric and paper. A key objective across all her practices is to incorporate an eco-component, contributing to a slow art movement and advocating for the responsible stewardship of space.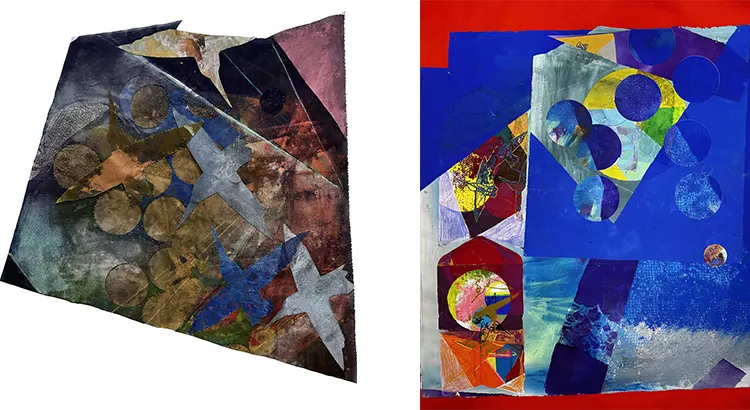 The Inner and Outer Worlds of Creativity
In the creative haven of Duwenavue Sante Johnson, moments are dedicated to attuning to the inner and outer worlds, meticulously calibrating a pathway articulated through an amalgamation of textile-inspired media – be it painted, cut, or sewn. Johnson perceives each fragment of paper as a leaf in a tome, and every contour as reminiscent of a dynamic image; color, to her, embodies a reflection or a viewpoint. The artist places a heightened emphasis on textile methodologies and assorted ecological notions, employing vegetable pigments and weaving textile techniques into shapes and patterns to instill motion, completeness, and profundity, ultimately culminating in visual results that foster comprehension. When confronted with distractions, she deftly maneuvers around them, allowing them to guide her focus towards what is pivotal or to spawn novel experiences previously unimagined.
A plethora of artists, including Montien Boonma, James Turrell, William Morris, Seydou Keita, Jane Champion, Jeanne Lanvin, and Ruth Asawa, have significantly influenced Johnson's artistic journey. One artwork that particularly resonates with her is Nicolas Daubanes' "Palais de Tokyo – L' Huile et l'Eau," a piece intertwined with the historical narrative of resistance and resilience, probing the ramifications of confinement on both the physical and mental planes.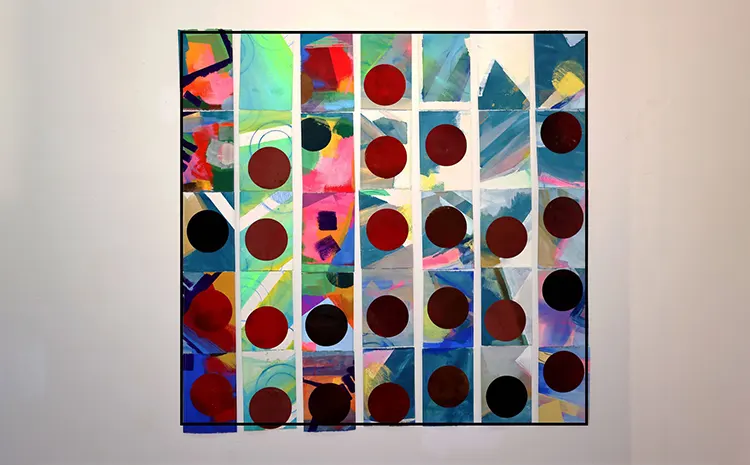 Duwenavue Sante Johnson: The Legacy of African American Textile History
Duwenavue Sante Johnson holds a special affinity for mixed media and textile materials. Throughout her artistic journey, Johnson has explored various forms of art, including fashion design, jewelry making, and bookbinding. Despite these explorations, she invariably finds herself drawn back to the realms of hand embroidery, collage, and painting.
A dream project that Johnson has long aspired to bring to fruition is the creation of a textile history of African Americans, akin to the Bayeux Tapestry, one of the most ancient European textiles in existence. Johnson envisions this endeavor as a template that can empower other marginalized voices within the American identity and globally to inscribe, illustrate, paint, and hand embroider their narratives into the annals of history. The process of sifting through shards and fragments from others' keepsakes and lives provides an opportunity to determine what to retain and what to release. These remnants are then reassembled to adopt a new life and persona, fueled by the aspiration to contribute to a more harmonious, beautiful world.