"Details – it's about noticing small things and connecting with the earth. Being aware of the changes around us, the landscape, tides, sky, vegetation."
Capturing the Delicate Aspects of Nature
Born in Australia in 1973, Diane Kazakis spent her formative years in Melbourne before embarking on a journey to explore the world. Over the past 21 years, she has resided in various countries, including Portugal, Kenya, Oman, Germany, and China. These diverse cultural experiences have significantly shaped her artistic style and subject matter, as evidenced in her award-winning work.
Kazakis boasts extensive global exhibition experience, with her artwork featured in both public and private collections. In 2023, she was recognized as one of "The 50 Artists to Watch" and received the Contemporary Art Curator "Collectors Art Prize". Furthermore, she claimed the Andor Meszaros Sculpture Prize in 1994 at the University of Melbourne and has garnered other accolades and commissions, such as an immense robot sculpture and a large model Earth. Kazakis also held the position of Vice President of the Association of Sculptors of Victoria from 2000 to 2002.
In recent years, the artist has concentrated on exhibitions and private commissions, with notable installations at the Sahab Hotel in Jabal Akhdar, Oman, and Healin' Spa in Suzhou, China. Through her artwork, Kazakis strives to enhance the surrounding environment with natural elements, drawing inspiration from her experiences in various countries and immersion into their cultures. While these influences may be subtle, she incorporates memories and elements from her experiences into her artistic creations.
Over the years, Kazakis has worked with diverse styles and media, but her recent work has gravitated towards abstraction. Investigating the natural world from distinct perspectives and examining humanity's impact on it is essential to her artistic expression. She is fascinated by the ebb and flow of ecosystems, crafting artwork that embodies a state of flux by experimenting with mediums that shift in appearance when observed from different angles.
From expansive landscapes and ethereal cloudscapes to microscopic details and figurative harmonies, Kazakis' work not only highlights the beauty of the natural environment but also underscores its fragility and deterioration. Our world teeters on a delicate balance, with humanity grappling with challenges related to equity, environmental degradation, conflict, and disruptive technology. Themes of environmental damage through human and natural causes, lush fertile lands, oceans, deserts, cellular structures, and phenomena beyond Earth's atmosphere, such as nebulae, recur throughout her work.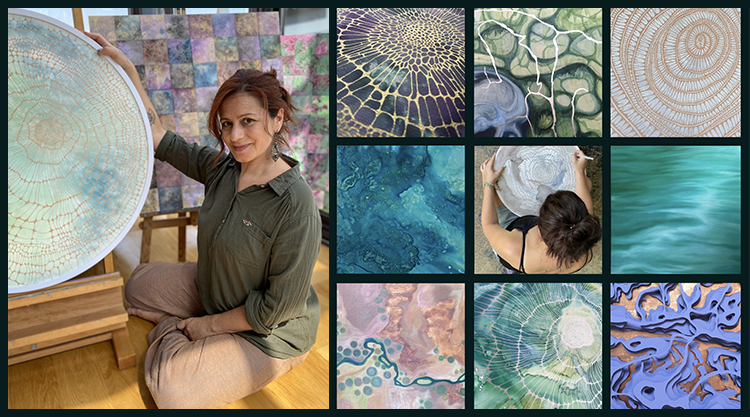 Finding Sanctuary in Art: The Creative Process of Diane Kazakis
Diane Kazakis' artistry captures the ephemeral allure of nature, emphasizing the delicate aspects that require safeguarding and revitalization. Her work compels the observer to consider the intricate interdependence between humanity and the environment, from minute details to broader perspectives. Kazakis seeks to remind viewers of their intrinsic need for a deeper connection with the natural world and to encourage its incorporation into daily life.
Kazakis believes in the importance of observing minute details and cultivating a profound connection to the earth. Her art is a reflection of the ever-changing landscape, tides, sky, and vegetation, promoting greater awareness of our surroundings and inspiring action.
Possessing a natural affinity for creativity, Kazakis has always considered art a fundamental aspect of her life. She obtained her degree in Visual Arts from Melbourne, Australia, and subsequently earned a Bachelor of Education. This background allowed her to teach secondary school art and work with an event/art installation company before moving to Portugal with her husband in 2002.
For Kazakis, art serves as a sanctuary—a space for contemplation where whispers and thoughts can emerge and be acknowledged. This creative process enables a deeper connection to the present moment, akin to meditation.
The act of creating art serves as a profound meditation for Kazakis, providing solace and healing for her mind and soul. In early 2020, while residing in Europe, she was diagnosed with early-stage breast cancer. Following surgery and treatment, Kazakis and her family relocated to China, where she embarked on her "Meditative Circles" series during a 28-day hotel quarantine in Shanghai.
Kazakis' fascination with cellular structures intensified following her health scare. This experience, combined with her artistic vision, culminated in a poignant series that merges elements of turquoise oceans, clouds, and intricate metallic lines inspired by magnified plant cell cross-sections. The result is a harmonious, flowing fusion of atmosphere, land, and water.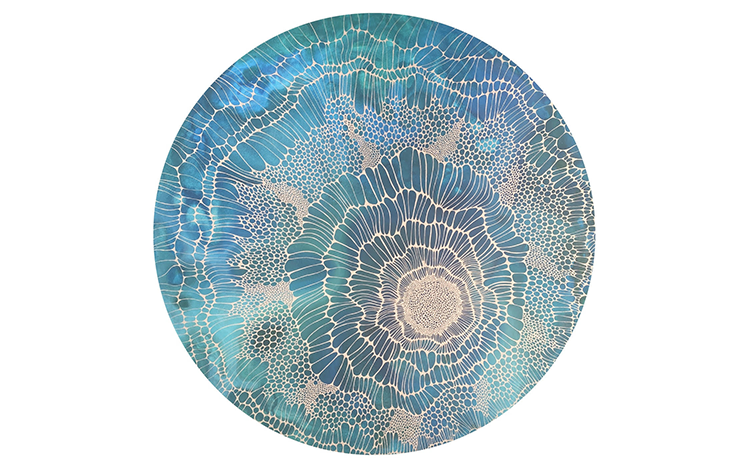 Exploring New Media and Alternative Perspectives
In Diane Kazakis' most recent piece within her series, "From Her to Eternity," she pays tribute to the feminine energy of the Earth. This captivating acrylic and ink painting displays recurring organic patterns that radiate like ripples in water, signifying the potent forces of Mother Nature that reach beyond the confines of the canvas and extend into eternity.
Throughout the years, Kazakis has been inspired by various sources. In her formative period, she was deeply fascinated by Greek and Roman mythology, ancient art, maps, and geology. These interests prompted her to consider pursuing studies in art, archaeology, geology, or cartography. Ultimately, she chose art, but traces of her diverse passions can still be discerned within her creations. Several artists have profoundly influenced her work, including contemporary Australian artist Judy Watson for her use of layers, color, and patterns; Georgia O'Keeffe's subject matter and style; and the captivating theories of the Impressionist movement.
Kazakis places great importance on natural light and requires ample space for uninhibited movement and creation. She often prefers sitting and working on the floor, necessitating a large, open area. Her current studio is the most spacious she has ever had, allowing her to store all her materials and art pieces. In one corner, she has fashioned a cozy nook with an old sofa, a shelf brimming with art books, and a collection of inspirational items. This space serves as her workstation for administrative tasks, such as website maintenance, social media, and exhibition planning, as well as for sketching and developing ideas.
To help her relax and concentrate, Kazakis often burns incense or candles. Music is another integral aspect of her creative process, with her playlist ranging from soothing meditation instrumentals to 90s alternative tunes and contemporary metal, depending on her mood and the ambiance required for the task at hand. Occasionally, she listens to comedy and art podcasts, though she often becomes so absorbed in her work that she barely notices the content.
Kazakis' daily routine includes morning walks with her dog, during which she often photographs her surroundings for inspiration. Residing next to a lake with diverse natural landscapes, she enjoys exploring off the beaten path rather than following designated pathways. Currently, she lives on a boarding school campus in Changshu, China, with her husband and two teenage children. Despite the numerous activities, responsibilities, and distractions, Kazakis remains organized, relying heavily on her calendar and phone reminders to maintain her schedule.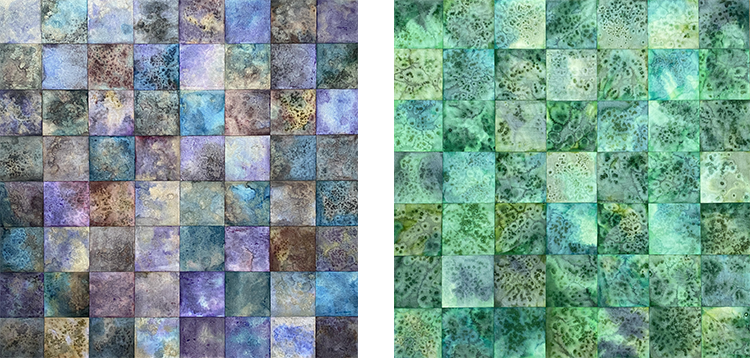 Pushing Boundaries and Collaborating with Businesses: The Future of Diane Kazakis' Art
Diane Kazakis holds a Visual Arts degree, majoring in sculpture and sub-majoring in photography. Her academic background also encompasses woodwork, printmaking, painting, ceramics, textiles, design, drawing, and metalwork. The diverse array of artistic disciplines she studied has significantly enriched her artistic practice, leading her to work in multiple mediums today.
Kazakis thrives on variety and the exploration of new media. Her artistic evolution has been greatly influenced by her location, access to materials, tools, and studio spaces as she has moved around the world. She often combines different materials, working on various surfaces and multiple pieces simultaneously. This approach grants her the flexibility to switch between projects based on process limitations, such as drying time, and her current mood.
Her most recent experiments involve ink and watercolor on diverse surfaces, including canvas, paper, and wooden panels. Captivated by the natural formation of the media on these surfaces, she allows colors to pool and form organically before enhancing select areas with multiple layers. In this process, Kazakis takes on the role of an observer, permitting the media to develop its own life.
Kazakis' current work primarily focuses on the representation or suggestion of landscapes, emphasizing internal, emotional, and metaphysical aspects rather than direct visual responses. These pieces offer alternative perspectives of the landscape, capturing aerial, cellular, and atmospheric viewpoints. She aims to convey movement, the ebb and flow in nature, fluctuations in light, rock strata formations, and cross sections that reveal the geography of a place.
With a penchant for pushing the boundaries of her chosen media, Kazakis begins each artistic endeavor with extensive experimentation and strives to develop unconventional combinations. Presently, she is collaborating with a cosmetics and skincare company to produce packaging featuring her artwork on a limited range of their products. This exciting partnership is expected to extend to additional products in the future.
Kazakis has also worked with hotels and spas, creating artwork that enhances the ambience of their spaces. She aspires to undertake more commissions in similar public and private settings on a larger scale, enjoying the process of working with clients to envision and create art tailored to specific spaces. Additionally, she has been contemplating the idea of establishing art and yoga retreats, where participants can create art in nature while nurturing their creative spirit, body, and soul.