"For me creating art is magic. Producing a body of work that people support and enjoy is extremely satisfying and validating."
A Multifaceted Artist Blending Paint, Collage, and Graphic Design
Dale Voelker is a talented and versatile artist who has made a name for himself in the world of abstract painting. With a passion for creating large-scale works that seamlessly blend paint and collage elements, he is a master at capturing the essence of art in his pieces. In addition to his artistic pursuits, Dale is also a successful graphic designer and entrepreneur, running his own design enterprise that caters to the music industry. Born and raised in Southern California, Dale's love for art was sparked during his time at California State University, Northridge, where he studied design and illustration.
Currently, Dale is pushing the boundaries of his artistic vision by exploring the interplay of newspaper and magazine pages as background layers and bold marks. His works range from grandiose canvas pieces to delicate paper artworks, each showcasing his rugged and distinctive aesthetic. Dale strives to strike a balance between the controlled and chaotic elements in his works, resulting in visually stunning pieces that harmoniously blend different media and collage elements. With his background in graphic design, Dale adds an extra dimension to his art, imbuing it with a sense of visual harmony and coherence.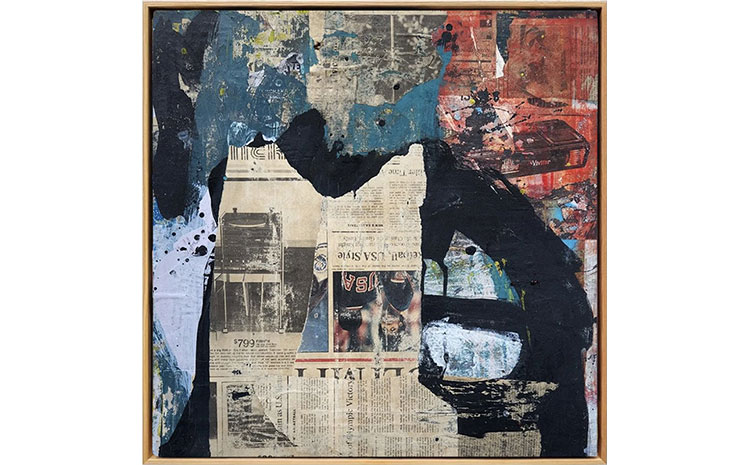 Dale Voelker: From Renowned Museums to Urban Life
Dale Voelker's artistic journey has been shaped by a plethora of experiences, with visits to renowned museums and galleries playing a significant role. From the Getty Museum to LACMA and the Broad, Voelker has been exposed to a diverse range of works, which have continuously fed their artistic inspiration. With a roster of artists that is constantly evolving, names such as Sam Gilliam, Kerry James Marshall, Keith Haring, Robert Rauschenberg, Mark Kostabi, and Peter Max have left a lasting impact on their work.
However, Voelker's love for art began much earlier, in childhood. They were enamored by the bold designs in advertisements in the daily newspaper and soon discovered the exciting world of collage, which they encountered through books and museums. This medium, with its wild and awe-inspiring elements, further fueled their passion for art. In addition to this, the gritty remnants of urban life also play a significant role in inspiring Voelker's work, giving them a unique perspective on the world.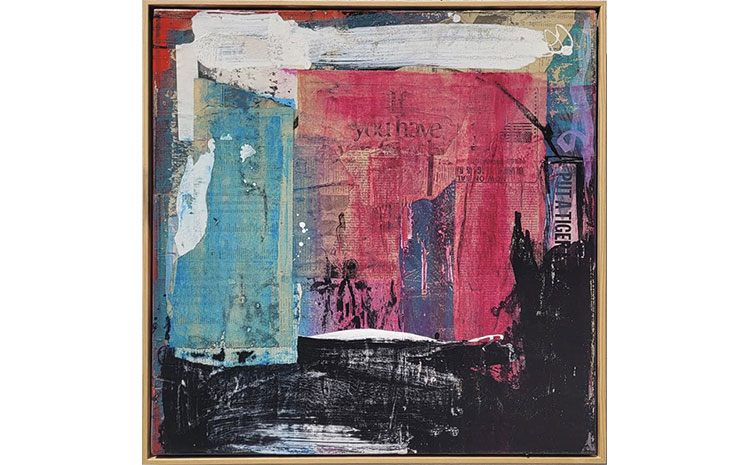 Exploring New Horizons: Dale Voelker's Move Toward Organic Art
Dale Voelker breaks free from the constraints of his occupational duties, where he produces structured and polished designs. Instead, he indulges in a more free-flowing, organic approach, bringing his artistic vision to life with his masterful use of paint and collage. The tactile quality of his works, which stem from his physical manipulation of materials, imbue his creations with a rich and textured history.
His latest works, displayed at a solo show in Palm Springs, are collages made from vintage newspapers, evoking a sense of nostalgia and capturing the essence of the past. Dale is particularly proud of these pieces, and the positive reactions from collectors have only added to his sense of satisfaction.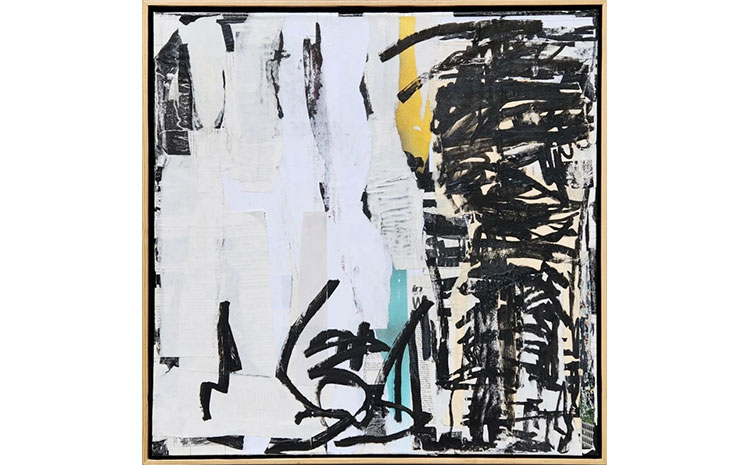 From Collages to Large-Scale Works
However, Dale's artistic aspirations extend far beyond these collages. He dreams of creating large-scale works using salvaged car parts, and transforming entire buildings into works of art. For him, the act of creating is a magical experience, and the validation received from an appreciative audience only fuels his passion further.
Dale draws comfort and inspiration from the experiences of other artists, and feels a sense of camaraderie in his pursuits, knowing that he is part of a larger community of creatives. His journey as an artist is one of continual exploration and experimentation, and he remains steadfast in his commitment to pushing the boundaries of his art.