"We are one species and one tribe."
Unveiling Angela Thouless's Immersive Study of Urban Life

Angela Thouless, a Scottish artist, embarked on her artistic odyssey after acquiring a BA (Hons) in Painting from Gray's School in 1999. This was closely followed by a Postgraduate Diploma/Masters in Art & Design in the subsequent year, establishing a robust foundation for her immersive study of urban life.
Thouless's deep-seated ardor for urban art was kindled during a seminal visit to Amsterdam in 2012. As she ambled through the bustling byways of the Spuistraat neighborhood, celebrated for its pulsating assemblage of innovative minds, she became profoundly engrossed by the aging architecture and the riot of color from the abundant graffiti. This powerful encounter provided a potent source of inspiration, compelling her return to Amsterdam on an annual basis to enrich her artistic palette.
Thouless was particularly enthralled by the spontaneous and ephemeral character of street art, coupled with its multicultural underpinnings, as it acted as a canvas for artists hailing from diverse countries. This fascination would prove pivotal in her artistic trajectory, forging an indelible link between her work and the multicultural, dynamic essence of urban spaces.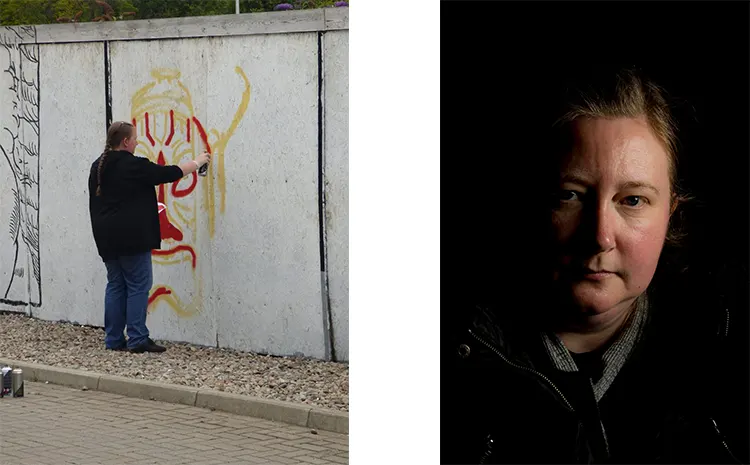 The Genesis of Tribe All: Angela Thouless's Artistic Evolution
While conducting a workshop in her native Aberdeen, Angela Thouless found herself inspired by a novel idea: spray can tribal mask paintings. This inspiration blossomed, leading Thouless to utilize old spray cans as her canvas, and thus a distinctive series of artworks was born.
Her artistic journey, a confluence of talent and tenacity, led to a myriad of exhibitions across the UK, Europe, and North America. The year 2019 marked an evolutionary moment in Thouless's career. Her spray can tribal mask paintings served as the foundation for the establishment of Tribe All, a unisex urban t-shirt brand.
This fresh endeavor elevated Thouless's professional journey, paving the way for participation in prestigious events such as Aberdeen and Milan Fashion Weeks. Her artwork received notable mention in esteemed publications such as Elle Decor, Red Magazine, and House & Garden, thus broadening her recognition within the artistic and fashion communities.
Tribe All, characterized by the inventive integration of Thouless's art, garnered acclaim in prominent magazines including Red, GQ, Wired, London Life, Harper's Bazaar, Esquire, Elle, Cosmopolitan, and Vogue. This praise underscored Tribe All's growing prominence, leading to its visibility at noteworthy events such as the Urban Music Awards, the National Social Media Awards, and the grand opening of Milan Fashion Week in September 2022. Such recognition further solidified Angela Thouless's position within the intersection of art, fashion, and urban culture.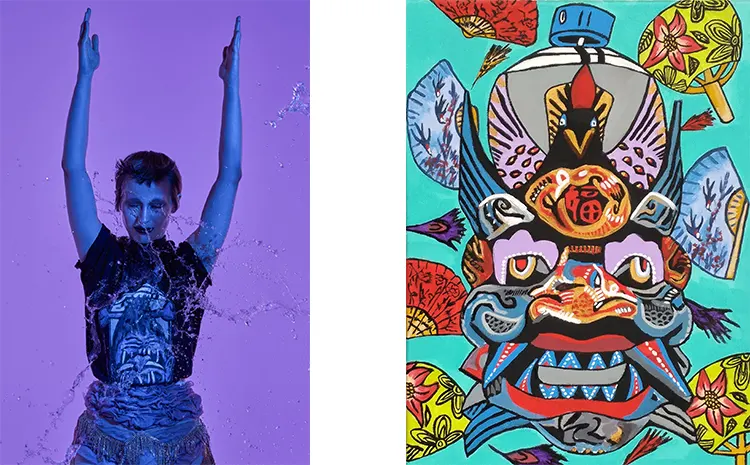 Angela Thouless: Celebrating Diversity and Unity through Art
Angela Thouless' unwavering passion for art is evident in her signature vibrant and colorful artistic style. Drawing upon a global palette of inspiration, she seamlessly incorporates elements from a myriad of cultural sources. These range from ancient oriental paintings and exotic jungle animals, to South American cultural traits that imbue her work with a unique, diverse aesthetic.
The cornerstone of Thouless' work is her Tribe All series, in which she artfully illustrates the celebration of diversity and unity. Through her creative vision, humanity is symbolically represented as one tribe inhabiting a shared world. This thematic portrayal vividly accentuates her universal ethos and emphasizes her commitment to cultural harmony and solidarity.
In her creative process, Thouless has shown an admirable ability to maintain concentration and focus, requiring only the bare essentials of art materials and research images in her workspace. She remains unswayed by potential distractions, consistently demonstrating an unwavering commitment to her craft.
Thouless acknowledges the profound influence of various artistic styles and movements on her work. She particularly appreciates German Expressionism, Primitive art, and Street art. Among the various artists who have left an indelible mark on her artistic journey, the legendary Jean-Michel Basquiat holds a special place. Thouless cherishes Basquiat's raw, energetic, and narrative style, clearly resonating with her own commitment to telling poignant, globally-oriented stories through her art.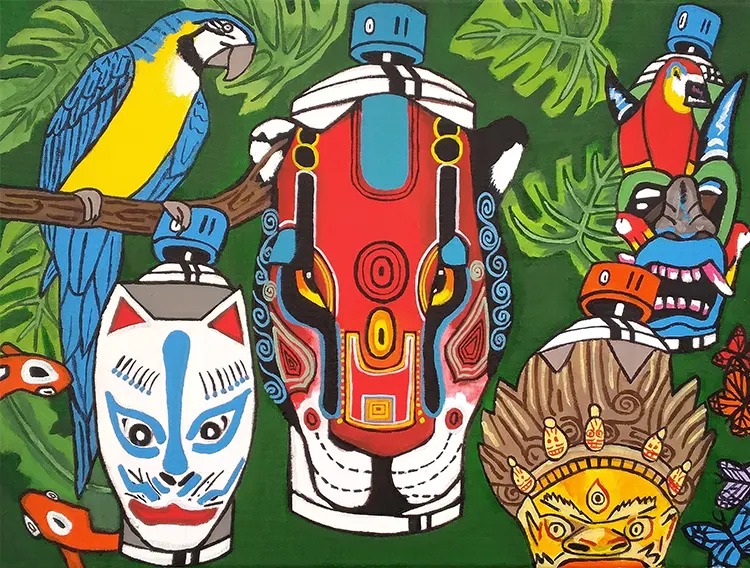 A Pivotal Creation: Angela Thouless's Kenyan Painting Journey
In the expansive catalogue of Angela Thouless's artworks, her Kenyan painting occupies a distinctive position. This pivotal creation served as the catalyst for the inception of the Tribe All concept, subsequently propelling her into a realm of extensive opportunities. Among these opportunities was an invitation to present her oeuvre at Galeria Azur in Berlin, in March 2023.
Thouless's artistic trajectory is characterized by a deep-rooted affinity for acrylic and oil paints, influenced significantly by her background in painting. Notwithstanding this inclination, she has consistently navigated uncharted terrains, experimenting with a diverse array of media. Through these explorations, Thouless has incessantly challenged and broadened the parameters of her artistic creativity.
Peering into the future, a long-held aspiration of Thouless was fulfilled when she was given the platform to display her work in Berlin. Galeria Azur has extended their patronage to her, representing her body of work for the span of an entire year. This pivotal development signifies a monumental milestone in Thouless's illustrious career.