"My art practice is not imagined but a matter of being. It is an inner call that paints my story as a woman, vocalized through portraits and figures."
Journey and Revelation: From Documentaries to Canvases
Ana Sneeringer, a Slovenian artist, now calls Alabama, USA her home. Initially embarking on a career in documentary journalism, Sneeringer distinguished herself as a director at an environmental television station. Throughout her career, she immersed herself in diverse cultures, journeying through countries like Jordan, France, Russia, the USA, the Dominican Republic, the Netherlands, and India. These global exposures profoundly molded her contemporary artistic expressions.
Central to Sneeringer's oeuvre is her nuanced portrayal of women. By engaging with women across a spectrum of cultures, she discerned a compelling tapestry of shared emotions and experiences, transcending racial or color boundaries. This revelation fueled her passion to craft canvases which resonate with the collective thoughts, emotions, and journeys of women from all backgrounds. Derived from her autodidactic roots, the unbridled freedom evident in her art empowers her to channel her boundless imagination. Depending on the essence of the subject she's capturing, Sneeringer masterfully wields a range of mediums—from watercolor and acrylic to oil—ensuring each piece communicates its intended emotion and depth.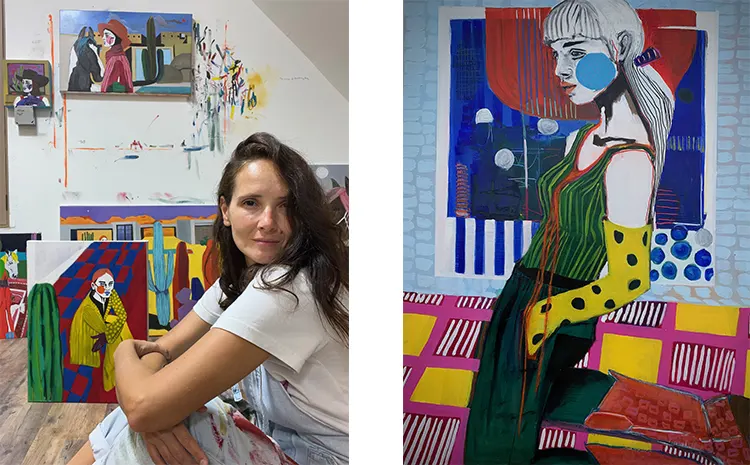 Worldwide Recognition: Galleries, Magazines, and Social Impact
Over the course of her career, Ana Sneeringer has garnered international acclaim for her unique artistic creations. Galleries and exhibits from diverse locales such as the United Arab Emirates, Italy, the United States, the United Kingdom, Canada, India, and Switzerland have prominently displayed Sneeringer's works. Prestigious platforms, including All She Makes, Create! Magazine, Beautiful Bizarre Magazine, and World of Interiors by Conde Nast, have celebrated her oeuvre. Numerous magazines, including the notable Adobe2, have sought her insights through interviews. A remarkable initiative witnessed Sneeringer collaborating with LIDL Slovenia and Europa Donna to amplify breast cancer awareness using her art as a medium. A pinnacle in her achievements was the induction of one of her pieces into the Salar Jung Museum in Hyderabad, India. Furthermore, in December 2022, Times Square in New York City was momentarily transfixed as Sneeringer's art graced its digital screens.
Originating in Slovenia, Sneeringer first made her mark in the media realm, holding the title of director at a local TV station. There, she conceptualized and produced a TV show, 'You See What You Want to See' — a video interpretation of portraits. This invaluable experience in media seamlessly set the stage for her evolving artistry, enabling her to interlace the nuances of filming with the finesse of painting.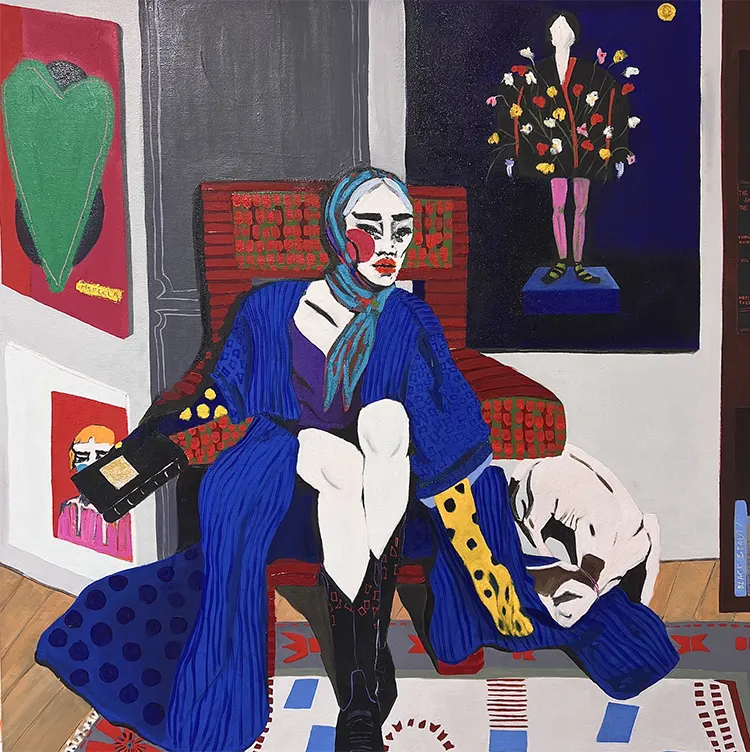 Beyond The Brush: The Themes and Setting of Sneeringer's Artistry
Ana Sneeringer's artistic style is intrinsically intertwined with her personal experiences. Through her evocative pieces, Sneeringer chronicles tales of women, placing emphasis on themes of human rights, empowerment, and the transcendence of societal barriers. The protagonists in her pieces are audacious, emboldened females who radiate raw emotion and embrace unabashed self-expression. A vivid palette underscores Sneeringer's work, with intense shades commanding the observer's gaze, inviting them into the realm of her intrepid heroines. Notably, she leaves the race and complexion of these women ambiguous, ensuring their resonance on a universal scale.
In Sneeringer's typical studio setting, canvases and oil paints dominate, alongside an unadorned wall where she displays her works. Of late, she has incorporated easels into her repertoire, especially for more meticulous compositions. Deeply engrossed in her artistic endeavors, Sneeringer shuns distractions, allowing the harmonious marriage of her artistry and the ambient music to envelop her.
Evolution and Inspiration: From Matisse to Alabama's Education
Ana Sneeringer's artistic inspirations have evolved over the years. The iconic works of historical figures such as Matisse have always held a significant place in her heart, juxtaposed with her admiration for contemporary masters like Botero and Andrew Salgado. From Sneeringer's impending collection, "Delivered," the artwork titled "there is. NO secrets between us" holds particular resonance. This piece eloquently captures the profound connection between a woman and a horse, serving as a poignant metaphor for Sneeringer's own journey of acclimating to rural life in a foreign land.
In 2010, Sneeringer embarked on her artistic sojourn with oils. Nevertheless, a deep resonance eluded her, prompting a shift to watercolors. The year 2019 saw her rekindling her passion for acrylics, only to find herself immersed once more in the depths of oils by 2021. Beyond her personal creations, Sneeringer harbors a profound aspiration: to enrich the community through art education. Her concerns about the dearth of such education in Alabama's schooling system fuel her ambition to instigate meaningful change.