"My art practice has become a mindfulness exercise for me, a form of art therapy."
Rediscovering the Passion for Painting
Sheree Smith is a resident Australian artist who is situated in Jervis Bay, located approximately two hours south of Sydney. Despite having an artistic inclination over the years, familial responsibilities and professional obligations have significantly impeded her creative pursuits. However, at the commencement of 2021, she reintroduced herself to painting as a form of self-nurturance and a catalyst for personal enrichment.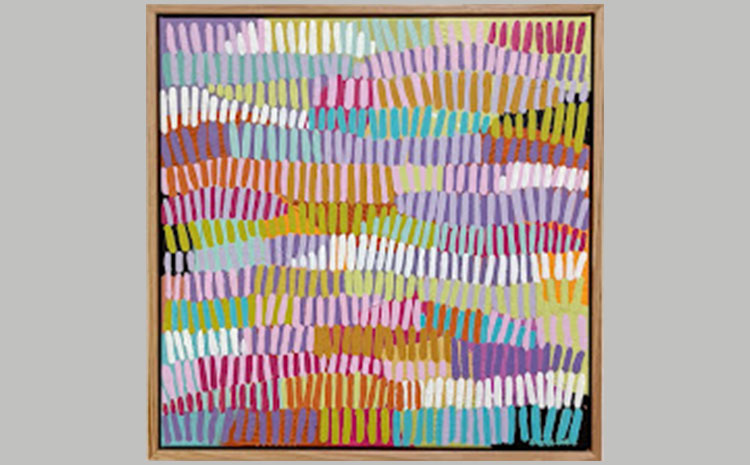 Using Abstract Art as a Form of Mindfulness and Therapy
Given her vocation and the associated exposure to vicarious trauma that she has encountered, working with individuals with multifaceted requirements, her artistic endeavors have become a valuable mechanism for achieving mindfulness and an art therapy outlet. Sheree creates abstract pieces using repetitive lines and patterns with a strong emphasis on vibrant hues, which brings her immense pleasure. This artistic style enables her to detach herself from the mundanity of the world while infusing joy through the playful interplay of colors and motion. Each stroke represents a distinct moment, a recollection, or an emotion, contributing to the depth and meaning of her work.
Sheree Smith typically engages in her painting endeavors during nocturnal hours or the early morning hours, taking advantage of the tranquility of a quiet home when her children are asleep. Her creative process varies from an undisturbed meditative state to a lively atmosphere, as she immerses herself in serene stillness or energizes herself with cherished melodies, singing and dancing in tandem with her brushstrokes.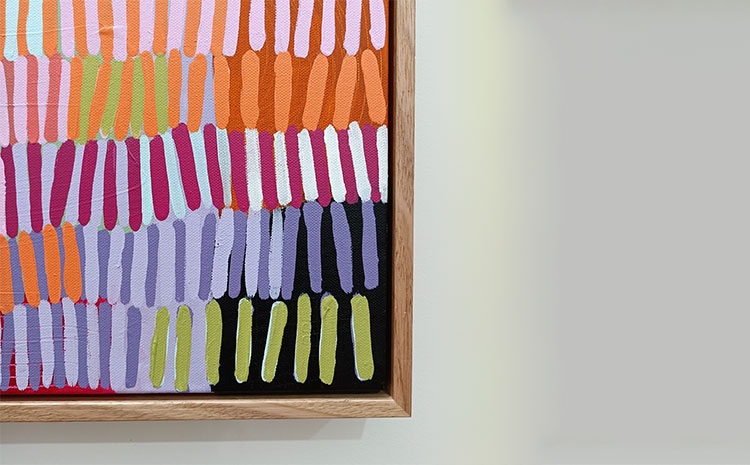 From Geometric Shapes to Joyful Repetitive Lines
As an aspiring artist, her ultimate goal is to witness her artistic expressions translated onto various products through potential licensing opportunities in the future. Sheree draws inspiration from her surroundings, finding creative stimulation in picturesque shorelines, vibrant textiles and intricate designs, flourishing gardens, and breathtaking architectural marvels.
Throughout her artistic journey, Sheree Smith has demonstrated a tendency towards a methodical and structured approach in her paintings, reflecting her perfectionist nature and affinity for tidiness. Initially, her compositions featured geometric shapes that explored the contours of the female form. However, after encountering a challenge with one particular piece, she discovered the creative potential of repetitive lines, which she then began incorporating into her work, ultimately finding great joy in this technique.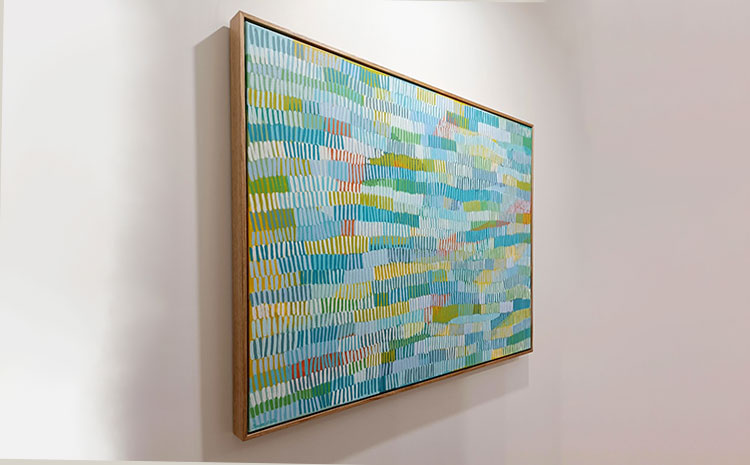 Balancing Professional Obligations with Creative Pursuits
In January, Sheree unveiled a curated compilation of her artistic creations in collaboration with Greenhouse Interiors. The sense of pride that swelled within her upon achieving a harmonious and unified collection was unparalleled. While selecting a preferred masterpiece from amongst them seemed an arduous task, her current top picks comprise "Pink Flamingo," "Watermelon Sugar," and "On The Reef." These particular pieces seemed to have materialized effortlessly, requiring minimal post-production modification as they appeared to come together naturally.
Engaging in artistic pursuits enables Sheree to navigate and cope with the emotional toll of the distressing experiences that she encounters through her profession. This practice serves as a means of rejuvenating and revitalizing her spirits, which, in turn, enhances her ability to fulfill her roles as a devoted mother and spouse. Additionally, she finds that regular exercise at the gym also contributes to her overall well-being.