"Creating graphics is still my way of clearing my head."
A Tale of Passionate Design and Personal Growth
Ronald Lubega is a burgeoning Ugandan designer who came of age in a benevolent establishment known as "Kids of Africa", perched on the beautiful shores of Lake Victoria. Lubega's childhood and adolescence, which spanned 19 years in this environment, set the stage for a unique journey into adulthood. Now, at the tender age of 21, he has remarkably transitioned his innate passion for design into a thriving profession.
Lubega, now based in Kampala, holds a pivotal position as a designer with the esteemed fashion label, "Abryanz". His creative portfolio has expanded to include "Lubega Clothing", a brand that is a testament to his tenacity and an emblem of his personal and professional growth.
Despite his successes, Lubega's journey was not without its trials. School expulsions attributable to perceived lack of discipline and his unconventional Rasta curls were challenges he faced. These experiences led him to seek solace in introspection, a decision that inadvertently catalyzed the emergence of some mental health concerns. However, it was through navigating these issues that he unearthed his profound passion for design.
Lubega's epiphany occurred during a period of lockdown, where he honed his self-taught design skills and set a personal objective to share a new design daily on his Instagram account @danteatype. This exercise not only served as a tool for creative expression but also became a therapeutic process, helping him manage his mental health struggles.
Lubega's designs go beyond mere graphics; they are conduits for his emotional expression and extensions of his self. While his mental health challenges served as the initial catalyst for his creative journey, his passion for design and the cathartic release it provides remain his primary motivators.
The genesis of his professional journey can be traced back to the exponential growth of his Instagram account, which garnered significant attention and paved the way for his first commissioned work and opportunities in the industry.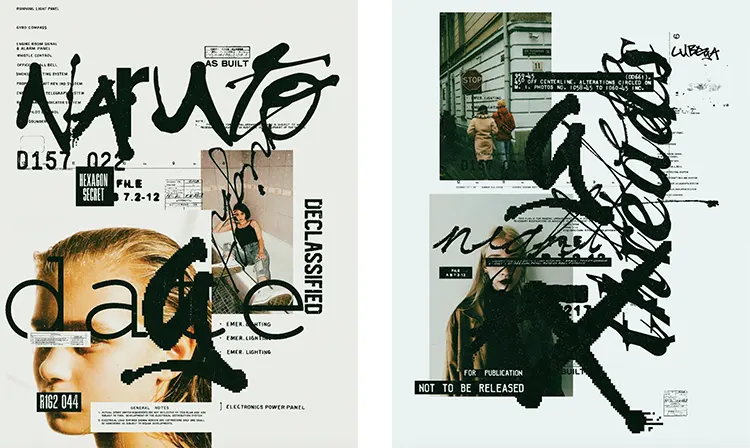 Ronald Lubega: Pushing Typography Boundaries with Creative Freedom
Leveraging a multitude of design software, tools, and resources, Ronald Lubega manifests his proficiency in typography, often employing digital techniques to produce captivating typographic designs across an array of digital platforms. It is critical for him to stay at the forefront of the latest design trends, maintaining a solid grasp of the principles of typography, and applying best practices. In doing so, Lubega ensures his creations not only captivate the audience but also effectively transmit his intended message.
Lubega harbors a particular interest in typography, more specifically, the Swiss style. Yet, he strives to distinguish his unique aesthetic from conventional design norms. Although well-versed in the established design rules, Lubega often ventures beyond them, valuing creative freedom over constrictions. His design process is spontaneous, allowing his unfiltered ideas to shape his creations.
Lubega often draws inspiration from a myriad of artists, including but not limited to, David Carson, Ashworth Chris, 46pgs Magazine, and Ben Jones. His work frequently grapples with universal human themes such as pain, love, depression, heartbreak, fear, and loneliness. In exploring these deeply emotive subjects, he underscores their significance in the human condition, adding depth and resonance to his work.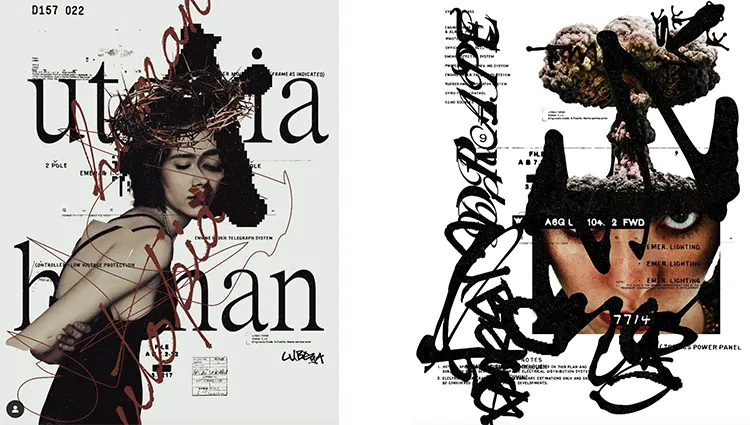 Immersed in Music, Igniting Innovative Designs
Employing a computer as his primary tool, Ronald Lubega immerses himself in the tranquil solitude of dimly lit rooms, cocooned within the pulsating rhythms and lyrics of artists like Juice WRLD, xxxtentaction, and Kanye West. The powerful and evocative music serves as a catalyst for his creativity, igniting ideas and encouraging innovative thought. The artist values focused concentration during his creative process, often disconnecting from the digital world to devote his entire attention to the designs at hand.
Lubega's initial foray into typography was largely self-guided, with YouTube tutorials by Chris Do serving as his virtual mentor. As he furthered his journey, his style began to evolve, absorbing the influence of 46pg Magazine, Wolfgang Weingart, Ashworth Chris, and the aforementioned musicians, Juice WRLD, xxxentanction, and Kanye West.
A significant turning point in Lubega's life was an invitation to feature his designs in 46pg Magazine, received on his birthday. The timing was serendipitous; he was in the midst of a personal crisis. The opportunity provided a beacon of hope, proving to be a transformative moment that subsequently shaped his career trajectory. He remains profoundly grateful for this life-altering experience.
Lubega ardently advocates for digital typographic design, emphasizing its manifold benefits. It provides precise control over typography, supports effortless experimentation with diverse fonts and layouts, and guarantees scalability. This digital medium also encourages collaborative work and seamless sharing of designs. Most importantly, it presents a platform for integrating interactive components, animations, and responsive design, adding a dynamic edge to traditional typography.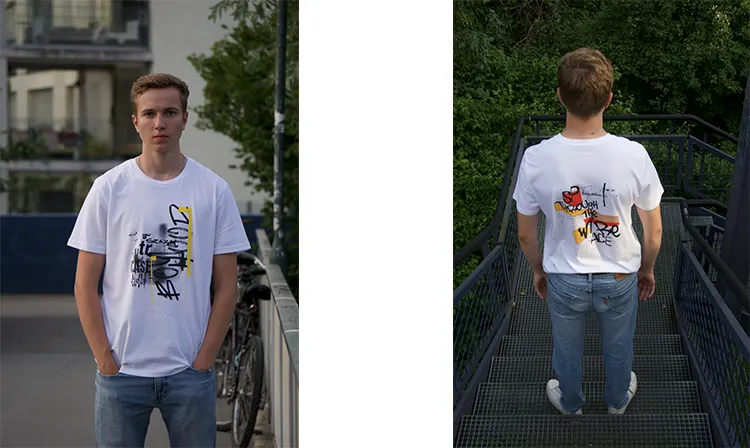 Ronald Lubega: Harmonizing Traditional and Digital Mediums in Artistic Creation
In the realm of artistic creation, the enchantment offered by traditional mediums, encompassing print and physical installations, persists undiminished. These mediums allow for tactile interaction, offering an array of distinct textures, and create a platform for artists to engage with audiences within a tangible, three-dimensional space.
Ultimately, the selection of the medium remains contingent upon a range of considerations. These encompass one's distinct artistic objectives, the target audience, and the specific demands of the design project in question. The respective merits of digital and traditional mediums are each compelling in their own right. Gaining mastery across a spectrum of mediums often emerges as a strategic advantage. It facilitates an adaptability to the ever-changing landscape of design requirements, and harmonizes with the wide array of client preferences.
Turning to the personal journey of Ronald Lubega, there is a palpable enthusiasm as he is poised to explore the realm of traditional designs. He has embarked on an entrepreneurial venture with the launch of his own fashion brand, aptly named 'LUBEGA'. This endeavor marks a transition of his creative concepts into tangible fashion pieces. Currently, Lubega is in the pursuit of strategies to propel this brand to new heights. The debut collection of T-Shirts is slated for imminent availability at www.lubega-clothing.com.