"The drops of color are an expression of immense joy when they resonate and are in harmony with the air."
Michiko Azu: A Tokyo-Born Artist's Journey to Chiba City
Michiko Azu, born and nurtured in the bustling metropolis of Tokyo, has now found her sanctuary in Chiba City, the place she calls home. Her affection for the canvas began early on, even as a toddler, setting her on a path of aesthetic appreciation and expression. This path was further cemented by weekly art classes she engaged in throughout her elementary school years.
Although initially she faced the disappointment of failing her entrance exam for art school, Azu found an unexpected artistic trajectory amidst her interest in abstraction and her concurrent attendance at a croquis class. Her breakthrough moment arrived when a large oil painting of hers was chosen for an open competition, consequently inaugurating her professional journey as an artist.
Since her first solo exhibition at the Open House Gallery in New York in 1989, she has consistently showcased her work under the name Michiko Azu. As a testament to her international recognition, she has been a recurring participant in group shows as a part of AU, an assembly established by Shozo Shimamoto, a prominent member of the GUTAI group.
Michiko has made a notable impact in various AU Group Exhibitions, showcasing her work in several cities and years. Her participation includes memorable appearances in New York in 1992, Paris and Ponte Nossa in 1995, Venezia in 2003 and 2005, and Napoli and Beijing in 2006.
Beyond her involvement with the AU Group, Azu's presence extends far into the art world through numerous esteemed solo and group exhibitions. These exhibitions have left a lasting impression and include her participation in the L.A. International Art Festival at Gallery ASTO in Los Angeles in 2006, the KOREA JAPAN-HOME EXCHANGE ART EXHIBITION at Busan Museum of Modern Art in South Korea in 2006, a solo exhibition at ANNEX ART SPACE hpgrp Gallery in New York in 2013, another solo exhibition at LELA International Gallery in Los Angeles in 2014, her involvement in The Second Silk Road International Arts Festival in China in 2015, and the Japan Paper Art exhibition at Edsvik konsthall in Sweden in 2016.
Azu's influence and prominence are not limited to international exhibitions alone. Her impact on the local artistic landscape of her homeland, Japan, is evident through her extensive array of exhibitions held there.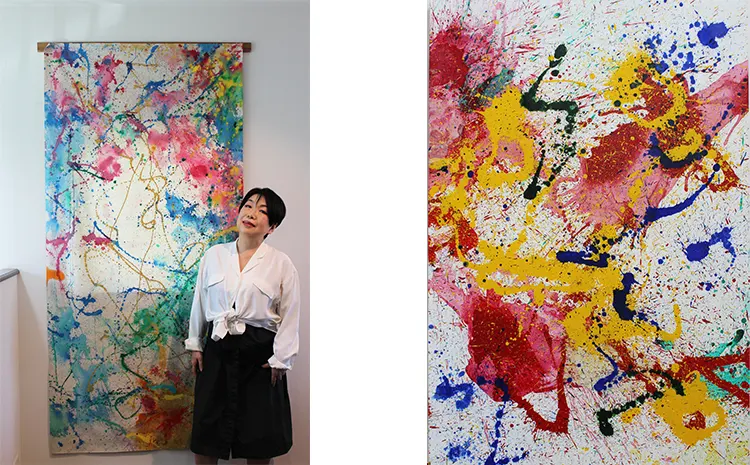 Michiko Azu's Unique Technique: Mastering the Art of Acrylic Dropping
Renowned for her unique approach to abstraction, Michiko Azu primarily employs a specialized technique involving an acrylic paint dropper. This artistic tool, distinguished by its substantial size, has its tip customized to facilitate a specific flow of liquid. By manipulating the dropper's distance from the canvas and regulating the influx of air, Azu masterfully cultivates a balance between micro and macro images. The individuality of her technique is further emphasized in the provided [YouTube link](https://youtu.be/qec7ivfU0T4).
The pursuit of uncharted territories within the confines of a flat surface initially drew Azu towards oil painting. Her initial endeavors saw her wield the brush as a conduit for self-expression. However, she soon realized the inherent control that her mind exercised over her brushstrokes, limiting the scope of her creativity. An epiphany led Azu to acrylic paints, a medium more conducive to liquid expression and thus more in tune with her subconscious, impromptu decision-making process. She harbors a desire to further explore alternative means of expression, including wirework and the coloring of three-dimensional objects, though these explorations remain on the horizon.
"Cosmic Dance," a term that resonated with Azu upon the inception of her signature style, often finds itself as the title for her numerous creations. Drawing from Kukai's philosophy, she imbues her Japanese heritage within her art, adhering to the belief that "the body is nothing more than emptiness, and emptiness is nothing more than the body." Abstraction, for Azu, is an extension of bodily expression and a means of affirming her existence as a sentient being.
In contemplating her existence as a living entity, Azu acknowledges the presence of awareness, sensation, and consciousness. Yet, she postulates that there lies a sea of energy beyond the boundaries of her physical form. She imagines life in all its forms dancing in celebration, encapsulated in this ethereal space. It is this celebration of life that gives substance to her conception of the "Cosmic Dance."
Azu's application of color serves as a manifestation of her immense joy. Each droplet resonates harmoniously with the surrounding air, producing an aura of jubilation that perfectly encapsulates her artistic vision.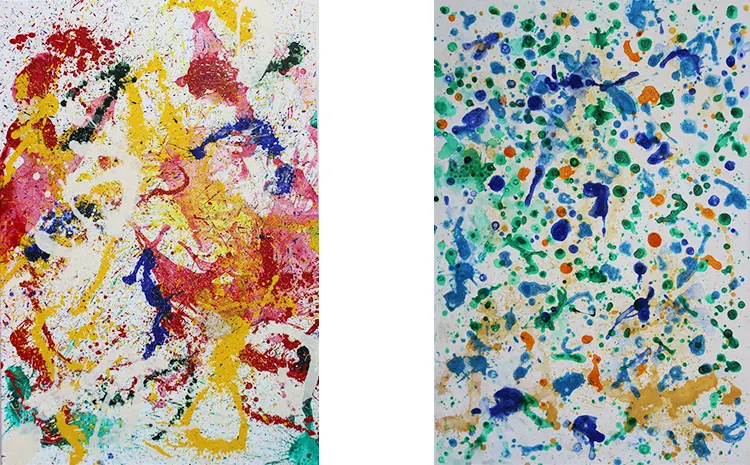 The Artistic Influences and Inspirations of Michiko Azu
Crucial to Michiko Azu's creative process are optimal lighting conditions and expansive room, given her unique approach of creating art on the floor. Azu's works, far from being random attempts, embody a meticulous process that necessitates intense concentration. Indeed, these paintings could best be likened to visual meditations, each demanding unwavering focus and deliberate action.
To ensure an atmosphere conducive to her unique process, Azu envelops herself in harmonious music. This auditory veil aligns with her prevailing mood, warding off distractions and fostering an immersive ambiance within her workspace.
Azu's artistic influences can be traced back to her early exposure to the vibrant art scene of Tokyo. This bustling metropolis frequently showcased exceptional exhibitions that left a lasting impact on the budding artist. She found herself drawn to the profound power of human consciousness, a theme she has since incorporated into her work.
Notwithstanding the comparisons drawn between her techniques and those of luminaries like Jackson Pollock and Sam Francis, Azu's creative process is uniquely her own. If she finds herself dissatisfied with a form she has crafted, she promptly erases it, favoring spontaneity and the thrill of the unexpected over a premeditated design. Yet, she acknowledges that even these surprising creations are born from deliberate intent.
One piece of art holds a particularly dear place in Azu's heart – Sandro Botticelli's "The Birth of Venus." This iconic painting's profound effect on her cannot be understated. The transcendent energy exuding from beyond its visual boundaries deeply resonated with Azu when she first stood before it. It was this masterpiece that truly unveiled to her the essence of painting.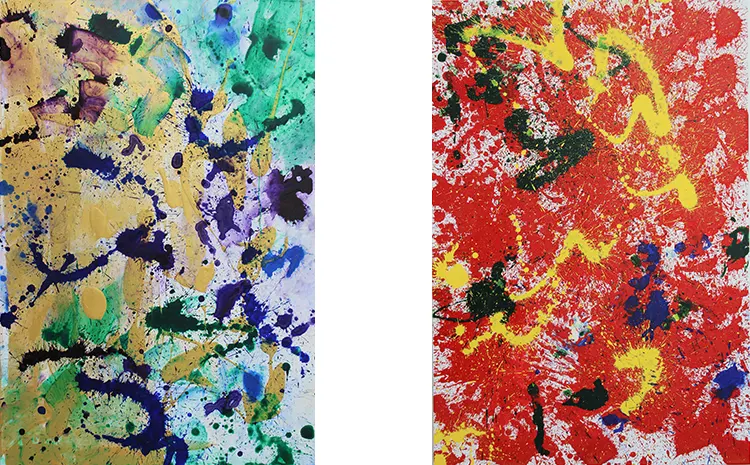 The Vision and Aspirations of Michiko Azu: Seeking Boundless Spaces
The collection of Pollock pieces held within the storied walls of the Guggenheim Museum in Venice comprise a significant corpus. It is a challenge to single out a specific work, yet the commanding scale and considered design of Anselm Kiefer's swinging axe form captivates Michiko Azu. This profound form possesses a power that seems to transcend the tangible confines of our physical world, an energy drawn from a grand cosmos that surpasses the limitations of the human body.
Equally, Azu is enamored by the architectural elegance and vibrant hues of Frank Stella's creations. Notably, one of Stella's sculptures graces the entrance of the Kawamura Museum of Art, conveniently located near Azu's residence. Its aesthetic appeal remains undiminished, irrespective of the frequency of her encounters with the piece.
Interestingly, it was not solely the influence of these renowned artists that catalyzed the evolution of Azu's pictorial imaginings. A substantial expansion of her visual vocabulary occurred upon delving into the writings of a theoretical physicist, suggesting an interplay between art and science in her creative process.
As for Azu's aspirations, she harbors a seemingly modest ambition, yet it holds profound implications for her artistic expression. Azu yearns to display her works in a substantial space, given the critical role of spatial context in her art. The prevailing housing situation in Japan presents considerable constraints for such an endeavor. Nonetheless, she envisions a collaborative venture, forging a creative space in concert with individuals conversant in a variety of media. This, she believes, could amplify the potential of her work, catalyzing the realization of her most expansive artistic dreams.