"I will often draw upon cultural events and folk imagery and re-imagine these into figurative compositions to challenge and question our relationship with land and its history."
Exploring Welsh Heritage and Identity Through Art
Meinir Mathias is a 42-year-old artist who resides and creates from her studio in Ceredigion, located in West Wales. Her artistic style is deeply influenced by Welsh culture and encompasses broader themes such as personal experiences and memories.
Mathias draws inspiration from cultural events and folk imagery, which she reimagines into figurative compositions that aim to challenge and question humanity's relationship with land and its history. Her work often features fierce and independent characters, referencing various cultural influences, including the 'Rebecca rioters,' historical female figures, and different folk characters.
Through her artwork, Mathias seeks to showcase her rebellious spirit while promoting the importance of Welsh heritage and identity. Her unique artistic vision provides a fresh perspective on the interplay between culture, history, and personal expression, making her a notable figure in the contemporary art scene.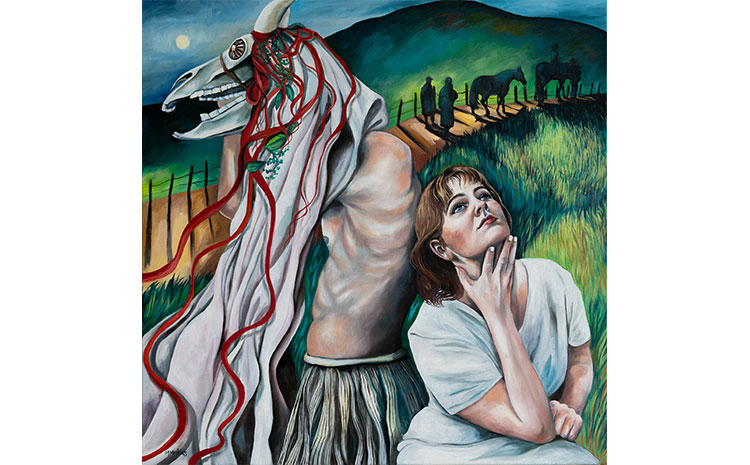 Conveying Human Experiences and Emotions
Art is an integral aspect of Meinir Mathias' life, with her creative process being influenced by various aspects of her personal and social experiences. She draws inspiration from her family and friends, who include musicians and fellow artists, and views them as significant sources of encouragement and motivation.
Throughout her studies in Fine Art, Meinir has explored a range of artistic techniques and methods. However, drawing and painting have remained her preferred medium for expressing ideas related to her cultural identity. Her artwork is primarily figurative, with people and characters playing a prominent role in her paintings. These individuals serve as communicators and storytellers, conveying human emotions through body language and expressions.
Meinir's paintings reflect her desire to explore human experiences and cultural identity through visual imagery. By focusing on the human form, she seeks to create a connection between the viewer and the artwork, allowing them to engage with the emotions and experiences conveyed within her pieces.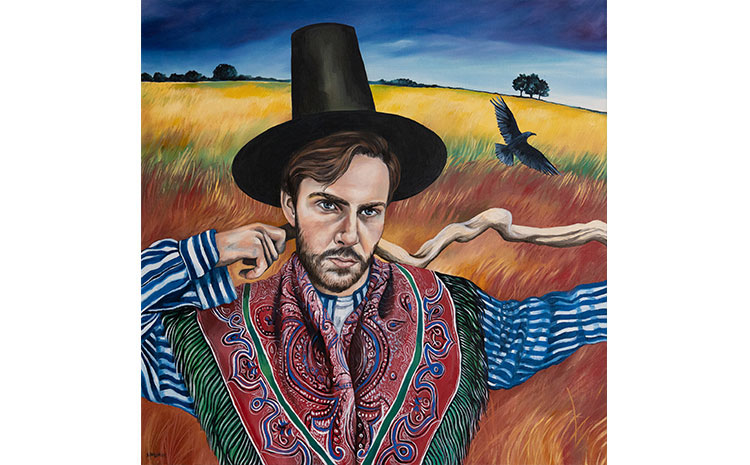 A Look into Meinir Mathias' Latest Collection
Meinir Mathias' paintings feature multi-layered imagery that often include symbolism, interiors, and landscapes. Her figurative and narrative works reflect the complex tapestry of her identity. She frequently explores the concept of heroism by reimagining characters from cultural memory and stories.
Mathias is excited to showcase her latest collection in a solo exhibition at the Ffin-y-parc gallery in North Wales this April. Her work draws inspiration from various sources, including folklore, history, and the natural landscape. These elements contribute to the culturally significant symbolism and narrative within her paintings.
Living in the countryside near the coast, Mathias is fortunate to have access to beautiful and rugged terrain that she often sketches and uses as reference material. Her family roots in North Pembrokeshire also serve as a source of inspiration, as the area's mountains, ancient woodlands, and rich history provide a wealth of creative ideas.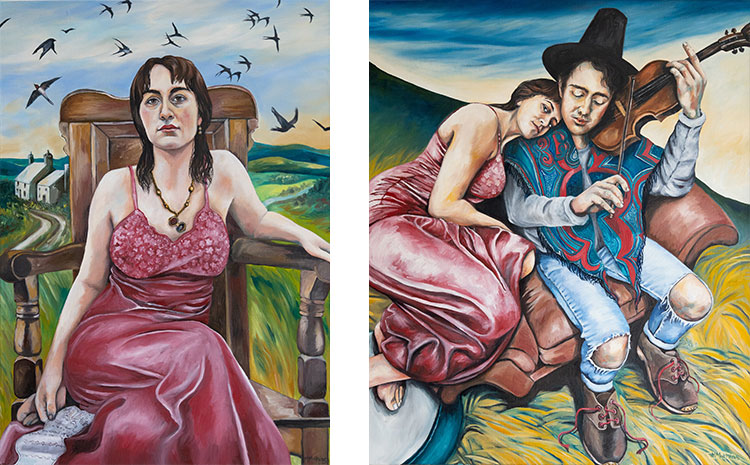 Meinir Mathias on Exploring New Creative Challenges
Meinir Mathias prefers to create in her own studio at home, where she has the ideal space to work and access to a collection of vintage clothing, fabrics, books, and personal memorabilia. These items feed into her creative process, helping her develop ideas for her paintings.
However, Mathias is also eager to step out of her comfort zone and explore new creative challenges. She is interested in doing an artist residency in the near future, which would require her to work outside of her usual studio space. Mathias is considering a residency in a place that is culturally and visually different from Wales, such as responding to a museum collection or working in a new location.
By embracing new challenges and experiences, Mathias hopes to expand her artistic perspective and bring fresh ideas and insights to her future work.