"The struggle of a painter with the canvas should be evident from every single brushstroke. The 'fractures' thus created on the surface of the canvas naturally become a part of it."
Plein Air Painting: Capturing the Essence of the Contemporary Urban Landscape
Juraj Florek, born in 1986, is an artist renowned for his urban plein air paintings. His distinguished artistic journey began with his graduation from the Academy of Arts in B. Bystrica, Slovakia, in 2014. In the subsequent years, Florek's career flourished as he invested his talents into a prolific painting practice, exhibited widely, and secured participation in numerous esteemed artistic residencies abroad. These included, but were not limited to, the Eva Kahan Foundation Artist Residence in San Sano, Tuscany in 2021, the CSW Kronika – Centre for Contemporary Art in Bytom, Poland in 2018, and the Studio Prám Art Residency in Prague, Czech Republic in 2017.
Adding a literary feather to his cap, Florek released the book "Smugglers" in March 2018, published by Slovart Publishing. This avant-garde publication explores the intriguing phenomenon of urbex – the exploration of deserted cities in Slovakia. For Florek, the cityscape provides a profound research material, and his works demonstrate a unique re-interpretation of plein air painting, skillfully adapted to the contemporary post-industrial landscape. His chosen subjects often derive from everyday environments, objects, and locations that, through the transformational power of oil painting, gain a revitalized perspective.
Florek's artistic roots trace back to his high school years when he was deeply immersed in the world of graffiti art. This initial creative foray spurred him to transition from the ephemeral canvases of the street to the permanence of canvas, painting cityscapes that evoked his urban environment. His experiences as part of this vibrant subculture have remained a constant influence in his work, impacting how he identifies motifs in the urban landscape and engages with his artistic process. He continues to extract a palpable adrenaline rush from plein air painting, echoing the thrill of his street painting days. Florek's enduring fascination with urban culture, as potent now as it was in his adolescence, aligns him with the contemporary artistic cohort known as the post-graffiti generation.
In terms of artistic style, Florek adopts an approach that melds his unique idealism with his intimate knowledge of the urban environment. He consistently explores themes rooted in the mundane aspects of everyday life, imbuing them with a new life through his evocative use of the oil medium. His artworks form a vibrant dialogue between the viewer and the complexities of the post-industrial landscape, offering a fresh perspective on the commonality of urban existence.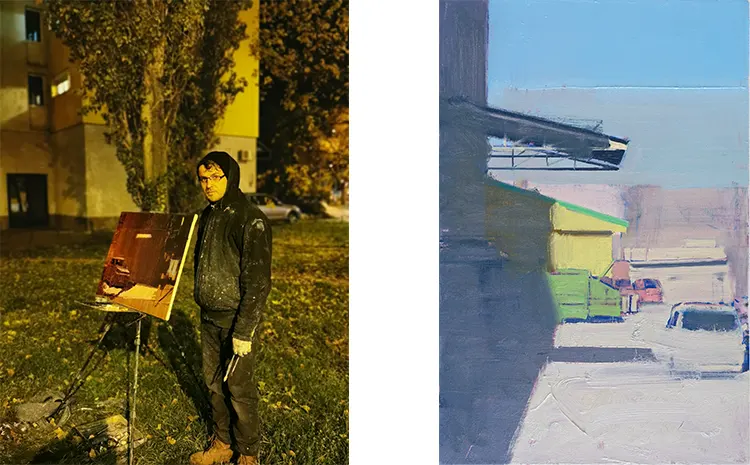 From Ephemeral to Everlasting: Juraj Florek's Transition to Canvas
Juraj Florek engages in the craft of plein air painting, focusing primarily on the contemporary urban landscape. The idiosyncratic environment of Central Europe presents him with an opportunity to capture its unique post-Soviet charm, which has proved to be an original and evocative theme for his landscape artistry.
Drawing inspiration from this distinctive milieu, Florek applies the traditional techniques of plein air painting to evolving urban environments, thereby creating a fascinating intersection between tradition and modernity. Industrial structures, irrespective of their current state – whether still functional, forsaken, or repurposed – increasingly captivate him. Florek's appreciation for these subjects has subsequently established them as a beloved sub-genre of urban landscape painting in his portfolio, integral to the depiction of the modern urban landscape. He consequently identifies his work as an embodiment of post-industrial plein air.
When asked about the prerequisites for his workspace, Florek affirms that he is an artist of simple needs. Basic painting materials, an easel, and a canvas are all he requires to channel his creativity. He often uncovers his subjects during extended urban explorations, finding that the most inspiring environments surprisingly exist on city outskirts.
In Florek's view, the initiation of each new painting signifies a confrontation with reality. It is an unpredictable endeavor, where the artist either triumphs over the day or succumbs to it. In the case of unsuccessful outcomes, he revisits and repaints the canvases. Florek expresses his fondness for realistic painting due to its inherent challenges, as he firmly believes that an exemplary painting is the reward of perseverance. The artist's struggle with the canvas, evident in every brushstroke, is part of the creative process. The 'fractures' or textural inconsistencies that form on the canvas surface over the course of this creative battle, he regards as organic components, adding to the authenticity of his work.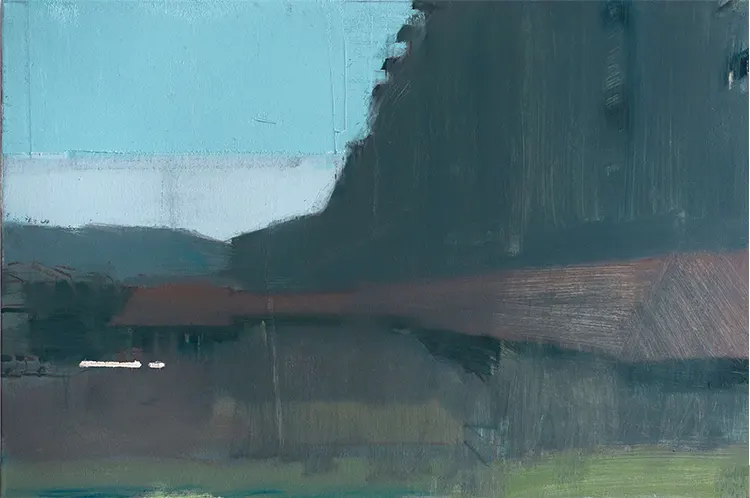 Artistic Inspirations: Juraj Florek's Creative Influences and Aesthetic Taste
Juraj Florek has often expressed a profound appreciation for the "Ashcan School," a group of New York-based artists, such as George Bellows and Everett Shinn, known for their vivid depictions of everyday life in the city. Florek's interest also extends to the post-war "Kitchen Sink" artists from England, including John Bratby, whose pioneering work in social realism resonates deeply with him. Among the more modern movements, Florek is enthralled by contemporary figurative painting, particularly artists who strive to redefine realism with a fresh, non-academic approach. British painters like Justin Mortimer and Phil Hale are among his inspirations.
The vibrancy of young Romanian art also captivates Florek. He often cites Adrian Ghenie, Mircea Suciu, and Marius Bercea as leading figures in the scene. From the Czech Republic, artists like Zbynek Sedlecky and Daniel Pitin have captured his interest. In his native Slovakia, Florek admires the works of Rastislav Podoba and Juraj Toman. His aesthetic tastes lean towards the conservative, and he maintains a deep fascination for the virtuosity of painting execution. He firmly believes that the form of the painting should take precedence over its content. Richard Diebenkorn, acclaimed for his ability to distill a canvas down to its essence, is another artist who merits mention in Florek's personal canon.
From his recent series, a piece titled "Basketball Court in Winter II" holds significant importance. This piece, inspired by the scenery around his current studio in a former textile factory in Budapest, portrays an abandoned basketball court during the winter months. The work blends post-Soviet and post-industrial aesthetics to create a lyrically resonant piece. Florek, a former baseball player, expresses his fascination for the theme of basketball courts, underscoring his belief that any subject can form the nucleus of urban landscape painting.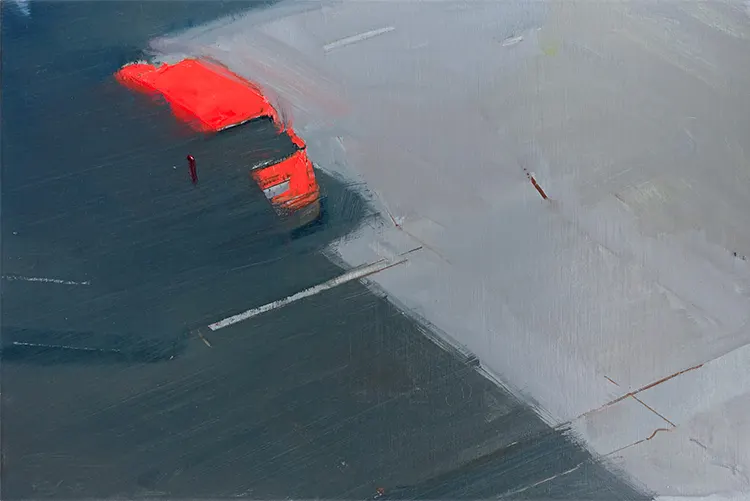 'ASPHALT' Exhibition: Juraj Florek's Fusion of Traditional Medium and Contemporary Landscapes
Juraj Florek embarked on his artistic journey exploring the realm of oil painting, a path that he faithfully trod due to its intricate technical demands. The vibrant outcomes achievable through this medium, combined with the distinct aroma of turpentine, made the process an indulgence for him. Rather than merely applying oil paints to canvas, Florek has pioneered a novel approach by juxtaposing this traditional medium with the representation of contemporary landscapes, a fusion that indeed captivates his audience.
Recently, Florek graced the art scene with his solo exhibition titled 'ASPHALT', held at Nova Vlna in Trencin, Slovakia. This exhibit was uniquely housed in an industrial loft, a part of a bygone factory, providing a fitting ambiance that seamlessly wove into the overarching theme of his show. The title 'ASPHALT' is no riddle wrapped in a mystery; it straightforwardly draws its essence from the omnipresent asphalt that emerges from the urban infrastructures depicted in Florek's artwork. Furthermore, it assigns a positive connotation to the otherwise mundane asphalt, symbolically representing his unwavering pleasure derived from city life.