"Art cannot be outside of politics, geopolitics, otherwise it will disappear. Art must resist dictatorship, thus building a brighter future."
Hélène de Tyndare: The Enduring Legacy of a Family's History
Hélène de Tyndare, a French artist of Ukrainian origin, was born Natalya Pyvovarova in Mariupol, a large industrial port city on the shores of the Azov Sea. The city's name has since evolved due to its proximity to Greek settlements in the Crimea and the Sea of Azov, resulting in its current name, "Mariupol," which means "city of Mary" in Greek.
Before dedicating herself entirely to her artistic activity, de Tyndare had initial training and experience in engineering and development in Siberia, Ukraine, Italy, and France. Despite being self-taught, her passion for painting emerged early, leading her to develop her own unique style of expression. She currently works in her studio located in Cannes, France, where she creates vibrant and colorful portraits, landscapes, movements, and allegories, each with its own set of stories or hidden messages.
De Tyndare's works are a reflection of her emotional state, and she adds an allegorical layer to them, making them both figuratively and symbolically rich. Her paintings blend a nonacademic mix of lively colors that are reminiscent of the works of Nicholas Roerich, a student of Arkhip Ivanovich Kuindzhi. Her diverse portfolio includes series of portraits, landscapes, movements, abstract and allegorical paintings, each of which conveys a distinct message and is a part of a complete story.
The artwork presented below is titled "Solidarity." It portrays humanity's emergence amidst the murky world of predators by demonstrating how a group of individuals working together and focusing on a brighter future can bring about positive change.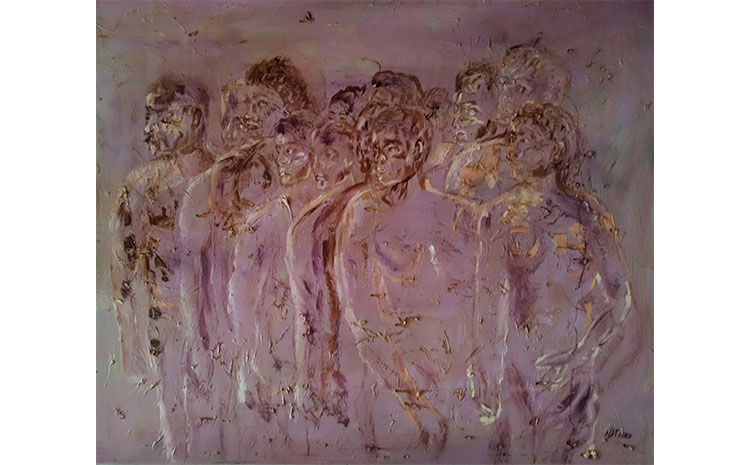 An Artist's Resilience in the Face of Adversity
Hélène de Tyndare hails from a family with a rich and complex history. Descended from Polish and Norwegian princes who owned large estates in Ukraine, Hélène's grandparents were forced to flee Bolshevik nationalization and endure the horrors of the Holodomor in 1932-33. Despite surviving these atrocities, her maternal grandfather perished in the Gulag, while her paternal grandfather died on the battlefield during WWII.
These destructions of the family in the 20th century are continuing in the 21st century. Russian bombs and rockets during the invasion in March 2022 have destroyed a lot of innocent people's life and areleaving Hélène's sister and many friends homeless.
Following her graduation from a Kiev engineering school, Hélène embarked on a diverse career that took her in Siberia, Italy, Luxembourg, and France. Fluent in five languages, Hélène bears two names, Pyvovarova Genter, after her husband's tragic death in a car accident. Despite this loss, she remains fiercely independent and resilient.
In 2006, Hélène suffered a cardiac arrest that nearly claimed her life. Thanks to the competent efforts of French doctors, however, she recovered. This rebirth is a foundation of Hélène'attachment to French life and human values. Proud of her dual heritage, she cherishes both her Ukrainian and French identities.
Hélène is a vocal advocate for artistic freedom, believing that art must never be silenced by political regimes. She sees art as an essential tool for resistance against tyranny, a means of building a brighter future for all. To this end, she has adopted the pseudonym Hélène de Tyndare for her artistic profession, standing firm in her commitment to free expression and creative independence. Most recently, she mourns the loss of the Arkhip Kuindzhi museum in Mariupol, which was destroyed by a Russian air strike on March 21, 2022, where she and her son studied art.
The pieces of art showcased below bear the titles "Resistance" and "Human Creativity". They serve as symbolic depictions of Ukrainian combatants and artists who are confronting invasion and devastation.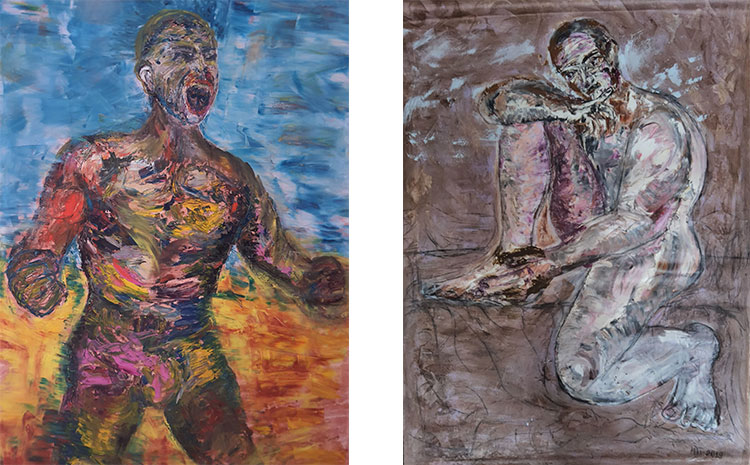 Hélène de Tyndare: The Emotional World of Allegorical Painting
The storied history of Hélène de Tyndare's family serves as a testament to 300 years of the Ukrainian people's relentless battle against Russian occupation. Her artistic creations embody deeply rooted emotions and experiences, drawing from the foundational human values that underpin the cultures of both Ukraine and France, as well as the broader aim of preserving and developing the world.
De Tyndare's oeuvre, spanning portraits, landscapes, abstract pieces, and allegories, encapsulates her unique vision of the world and its evolution. Her art transcends mere photographic representation, offering instead an allegorical message that invites viewers to interpret the works through their own perspectives on the contemporary world.
Driven by her emotions, de Tyndare deftly conveys these feelings in her portraits through the subjects' postures and the soulful depth reflected in their eyes. Vibrant colors that communicate intense emotions serve as a unifying element across her diverse range of paintings. To some extent, this emotional approach and dynamic style resonate with the expressionist movement.
Like expressionist artists, de Tyndare's work also manipulates reality by emphasizing the subjective emotions and responses that objects and events elicit within an individual. It is worth noting that expressionism, defined as a movement originating in early 20th-century Germany, is characterized by artists distorting their subjects' reality to "express" their personal emotions, feelings, and ideas. Pioneering artists Vincent van Gogh and Edvard Munch, whose work heavily inspired expressionist artists, are widely recognized as the movement's foremost precursors.
The following are two portraits from the "Portraits of Humanity" exhibition that showcased Hélène's artwork in Monaco in May of 2022. The expressions of the women in these portraits evoke both individual and collective emotions, conveying the essence of humanity. The "Enlightenment" portrait is particularly relevant to the feeling of emerging from the dark Soviet era into the light of democracy that accompanied Ukraine's independence in 1991. The "Determination" portrait can be linked to the bravery and fortitude exhibited by the Ukrainian people in the aftermath of the Russian invasion on February 24th, 2022.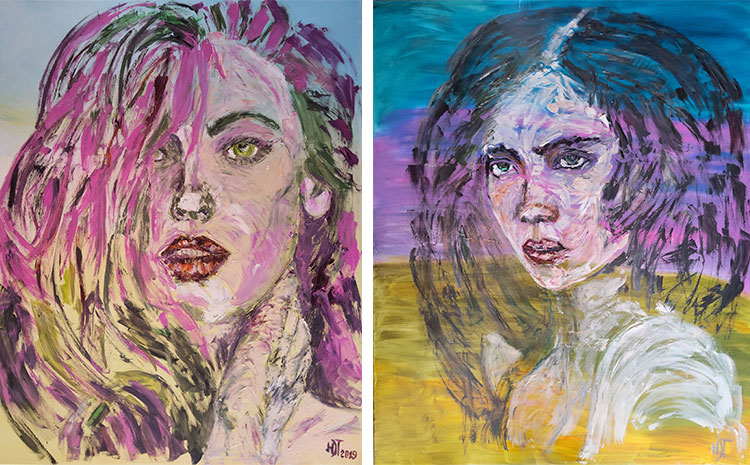 Hélène de Tyndare: Bridging Personal and Global Narratives Through Artistic Projects
Drawing inspiration from the amalgamation of personal, familial, and national narratives, Hélène de Tyndare intertwines these experiences with current global events. In doing so, she uncovers fascinating parallels and transforms them into allegorical representations, which resonate with her audience. The continuous emergence of new events and stories fuels her inexhaustible artistic vision, transcending the boundaries of a single lifetime and encompassing the vastness of human history.
De Tyndare's creative process transcends geographical boundaries, as she seamlessly integrates her observations, personal experiences, and global phenomena into her work. Initial ideas materialize into sketches, which then evolve into fully-fledged projects and eventually captivating paintings. She places great emphasis on the exchange of opinions, as this open dialogue encourages her projects to morph and adapt. Additionally, the material and financial contributions of interested parties are indispensable, as these resources foster the growth and social relevance of her work over time. Among her many influences, Anselm Kiefer's grandiosity, profound meaning, and experiences hold particular significance.
Hélène's ideal working environment is one where she can garner support from responsible individuals interested in her projects. She is constantly thinking about the future and has ambitious plans for large-scale projects, measuring approximately 20 x 60 meters or more. She envisions working collaboratively with other artists and scientists on projects designed to improve the lives of people on earth and explore other planets. Among her envisioned projects are "Labyrinths of Life" and "Heart of the Planet," as well as many others.
The painting depicted here is part of a series called "Reality of the 21st Century." It portrays the forced displacement of Ukrainian people, including more than 16,000 children, by the Russians during their invasion of Ukraine.