"I want my artwork to have that same quality, centuries from now."
Unveiling Gustavo Ramos' Early Years and Artistic Awakening
Gustavo Ramos, a Brazilian-American artist, boasts an impressive repertoire of portrait drawing and painting. His childhood years in Brazil were marked by a passion for creating drawings inspired by his favorite television shows and movies. At the tender age of 15, he relocated to the United States. The challenges of navigating a new country without the command of its language thrust him into circumstances where non-verbal communication — facial expressions, bodily gestures, and other subtle cues — became vital.
This phase of his life ushered in a paradigm shift in Ramos' artistic approach. His canvas began to showcase real-life individuals, their expressions, and their non-verbal cues that unravel their stories, setting aside his earlier focus on fiction.
In his professional life, Ramos juggles between generating art pieces for exhibitions, engaging with clients for portrait commissions, curating his digital persona, and instructing workshops. A cornerstone of his artistic philosophy asserts the importance of a robust foundation in drawing — which Ramos regards as the most fundamental means of visual communication and the medium that enables the swiftest articulation of expression.
During his collegiate years, Ramos was struck by a profound insight: creating art directly from life experiences fosters an individual's unique artistic voice more than replicating pre-interpreted images from a photograph. This revelation led him to produce a series of self-portraits, crafted before a mirror, in the course of his artistic tutelage.
Ramos doesn't attribute his artistic inclination to a specific event or moment. It wasn't a conscious decision he made at a defined point. Rather, he views his career in art as a natural extension of his innate creativity and an embodiment of his authentic self.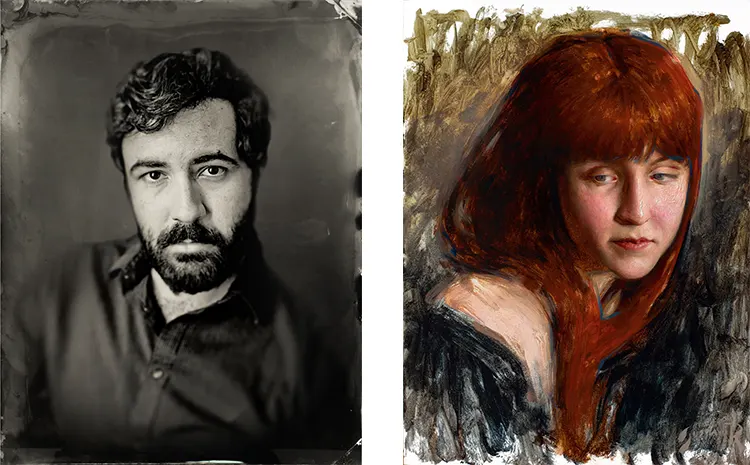 The Path to Mastery: Gustavo Ramos' Journey through Education and Recognition
During his early years in Brazil, Gustavo Ramos harbored a propensity for sketching and draughtsmanship, which led his mentors to envision him as an architect. Ramos, bereft of local artist role models, initially planned to follow this architectural path until his relocation to the United States and the influence of a supportive high school art teacher ignited the possibility of a fine arts career. Ramos then acknowledged that dedicating the majority of his working life to a discipline should result in mastery; hence, he chose a path aligned with his passion—fine arts.
Ramos embarked on his artistic education as an undergraduate at Southern Virginia University. The university's standard art program did not cater specifically to those aspiring to concentrate on representational drawing and painting. However, an accommodating professor enabled Ramos to curate a distinctive, independent curriculum. It included daily practice through copying Old Master paintings and life drawing/painting, comprising at least four hours each day. This immersive process not only honed Ramos' artistic skillset but also instilled the essential qualities of self-motivation and accountability—both critical for independent professionals. Additionally, the university facilitated numerous visits to revered art institutions, such as the National Gallery of Art and the Metropolitan Museum of Art. These expeditions, involving direct interactions with masterpieces, were integral to Ramos' self-guided artistic development.
Upon concluding his academic studies, Ramos dedicated substantial effort to cultivating a unique body of work, primarily featuring emotionally intense portraits. His illustrative prowess gained national acclaim in 2020 when his piece, "Self-Portrait in Black," adorned the front cover of "The Best of Drawing" magazine. This accolade, coupled with the publication's extensive distribution, facilitated his breakthrough into the national artistic scene.
Subsequent to this initial acclaim, Ramos' artwork has been exhibited in prestigious institutions worldwide, including the Rijksmuseum, Sotheby's, and the European Museum of Modern Art. His pieces have been added to esteemed collections across the United States, such as the Springville Museum of Art. In addition to his exposure, Ramos has been profiled in renowned art publications, including The Artist's Magazine, Fine Art Connoisseur, Southwest Art, and International Artist. His promising talent was recognized when Southwest Art included him in "21 Under 31: Young Artists to Buy Now" and subsequently featured him as an "Emerging Artist," an honor he also received from Fine Art Connoisseur. His artistic prowess was further acknowledged when The Artist's Magazine dedicated an eight-page feature to his work.
International recognition followed, with Ramos chosen as the artist representing North America in the Year of Rembrandt Award, hosted by Royal Talens in the Netherlands. He is also a two-time recipient of the John F. and Anna Lee Stacey Foundation Fine Art Award, a finalist of the Boynes Emerging Artist Award, and has earned accolades in the Portrait Society of America International Competition. These numerous recognitions have significantly bolstered Ramos' career, solidifying his position in the art world and perpetuating his artistic journey.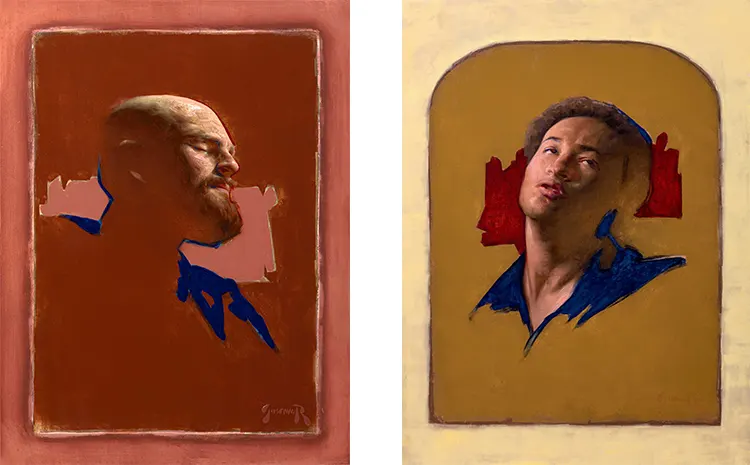 From Photo-Realism to Classical Realism: Gustavo Ramos' Quest for Authenticity
Gustavo Ramos's artistry is deeply rooted in the philosophy of classical realism, a perspective he embraced following a youthful journey of exploration across a spectrum of art styles. In his early years, Ramos navigated the waters of abstract to photo-realism. However, he distanced himself from the unanchored abstraction, believing he could forge more potent imagery from the tangible world than from the abstract confines of his imagination. Paradoxically, photo-realism didn't satiate his quest for authenticity; it lacked the raw and emotional depth he sought in art.
In a quest to express his vision in a more honest and evocative manner, Ramos sought inspiration from the grand masters of pre-photographic art. He viewed their work as a vibrant dialogue, a visceral fusion of life's realities, and a testimony of human experience that resonated profoundly with his artistic vision.
Ramos's artistic mission centers on celebrating the human spirit – both in its universal and individualistic manifestations. His objective lies in creating relatable imagery, deeply rooted in centuries of visual communication. In his pursuit of this goal, Ramos strives to establish an experiential connection between the viewer and his art, accentuating the characteristics unique to traditional, handmade artistry. He observes a trend within contemporary society, where value is primarily determined by practicality. Through his art, he passionately communicates the idea that craftsmanship can innately hold value, independent of its practicality—a sentiment that extends to the exploration of the worth of the human soul.
Ramos's educational journey led him to the east coast, where he found the opportunity to immerse himself in the iconic works at the MET and the National Gallery. The oil paintings of Vermeer, Rembrandt, Caravaggio, and Rubens captivated him. Despite the paintings' age, their luminous, jewel-like quality imbued them with a freshness as if they were newly crafted masterpieces. Inspired by this timeless aura, Ramos chose oil paint as his medium, aspiring to infuse his artwork with a similar enduring quality. This choice led to a deep focus on mastering this medium, much akin to a concert pianist who dedicates their practice time to the piano rather than dividing it among various instruments. In his perspective, most contemporary art institutions prioritize breadth over depth, whereas he firmly believes in the distinctiveness and recognition that depth can yield in one's craft.
Among Ramos's creations is the poignant piece, "Infinity," which depicts a challenging period in his wife's life marked by frequent panic attacks and her existential fear of death. This painting was not an exploration for answers to life's most profound questions but rather an artistic expression of coming to terms with one's inner turmoil.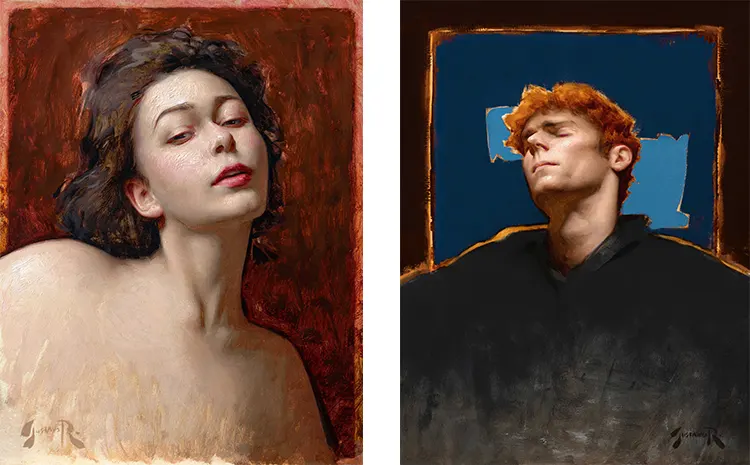 Behind the Canvas: Gustavo Ramos' Sanctuary of Artistic Expression
The creative sanctuary where Gustavo Ramos weaves his artistic magic exists as a distinct entity, detached from his domestic abode. This discrete studio space, an essential shield from the delightful chaos that comes with being a father of two, enables the artist to immerse himself fully in his craft. As he works, an auditory landscape comprising music, podcasts, or the audio tracks of films and television shows often envelops him, forming a cocoon that allows him to delve into his creative process for hours on end without interruption.
A pivotal moment in Ramos' artistic journey can be traced back to his tender age of ten when he encountered a Michelangelo sketch within the pages of a magazine. The sketch, an elemental study for one of the figures adorning the ceiling of the Sistine Chapel, resonated deeply with the young artist, previously engrossed in cartoon drawing. Years later, standing beneath the famed chapel's ceiling during a trip to Italy, Ramos experienced a profound sense of completeness, a feeling of having come full circle. Michelangelo's works served not only as an artistic inspiration but also as a compass guiding him to raise his standards in life.
Another beacon of artistic influence in Ramos' life has been the Dutch master, Vermeer. During his east coast academic tenure, frequent sojourns to the National Gallery of Art in Washington, D.C., became a ritual. Amidst a myriad of remarkable artworks, it was Vermeer's modestly sized yet captivating "Woman Holding a Balance" that consistently claimed Ramos' attention. The luminous, jewel-like quality of this piece exerted a mesmerizing pull, ultimately influencing his decision to pursue oil painting.
An extensive list of other artistic luminaries, including Rembrandt, Velázquez, van Dyck, Andrew Wyeth, and Gustav Klimt, have also contributed significantly to the development of Ramos' unique artistic voice.
When it comes to envisioning future projects, Ramos adheres to an approach that values spontaneity over long-term planning. He discovered that an excessive focus on future projections tends to dampen his enthusiasm for ideas that once elicited profound passion. Instead, he anchors his artistic practice in the present, exploring whatever theme or concept that currently ignites his excitement—a process that is as dynamic and evolving as Ramos himself.