We live in an infinite abundance of living or inert materials that we can admire to the point of unreason and ecstasy – I could list endlessly, and yet we seem to be constantly plagued by an irrepressible urge to keep producing objects that we barely consume and throw away.
From Impoverished Mountains to Abstract Art
Frédéric Prouff is a 47 year old individual currently living on the north coast of Brittany, France, near the ocean. He was raised in the Monts d'Arrée, a region of small, impoverished mountains in the interior of Brittany. This experience played a significant role in shaping him. Frédéric creates abstract compositions using a variety of materials, including paper, cardboard, wood, plastic, and metal, collected while walking along the shore. These materials are often considered "poor" and his work often resembles collage. Despite not having any formal artistic or academic training, he has self-studied a wide range of art, including the work of Kenneth White, John Coltrane, Meredith Monk, Robert Rauschenberg, and Kurt Schwitters. The process of collecting materials on hikes is also an important part of his creative process.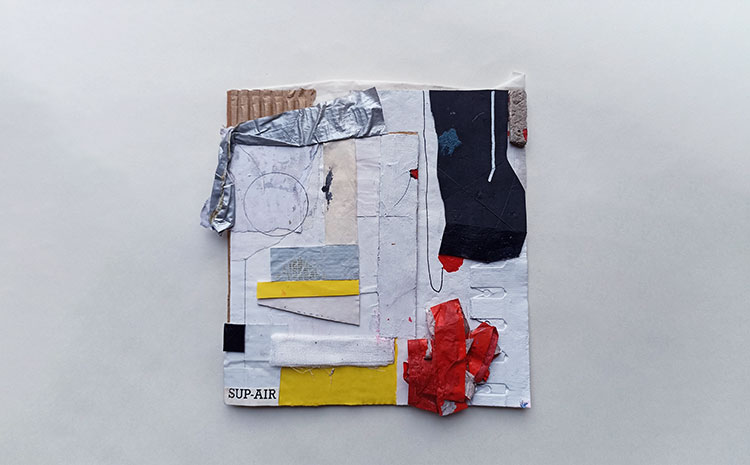 The Practice of Frédéric Prouff
Frédéric Prouff has always been interested in the multifaceted activity of walking and exploring for materials found along the way. For him, it allows for a physical, aesthetic, and spiritual experience all at once. He has been engaging in this practice since his youth and has even tried to perceive reality in an abstract manner, freeing his gaze from any limitations that may hinder it. As he walks, he is exposed to a multitude of sensory and mental experiences that serve as the basis for his artistic endeavors. These experiences are a way for him to capture just a small portion of the real-world objects and phenomena he encounters, such as stones, trees, leaves, walls, light, animals, faces, objects, moss, gestures, wind, waves, and more. These can be incorporated into a mental collage and potentially translated into tangible works of art.
Prouff finds inspiration in a variety of sources, including the coastlines, forests, cities, and music he has encountered and listened to, as well as the sky, wind, and architecture he has encountered. Jazz, contemporary music, and the works of composers such as Coltrane, Ornette Coleman, Cecil Taylor, Schoenberg, Berio, and Meredith Monk have particularly resonated with him.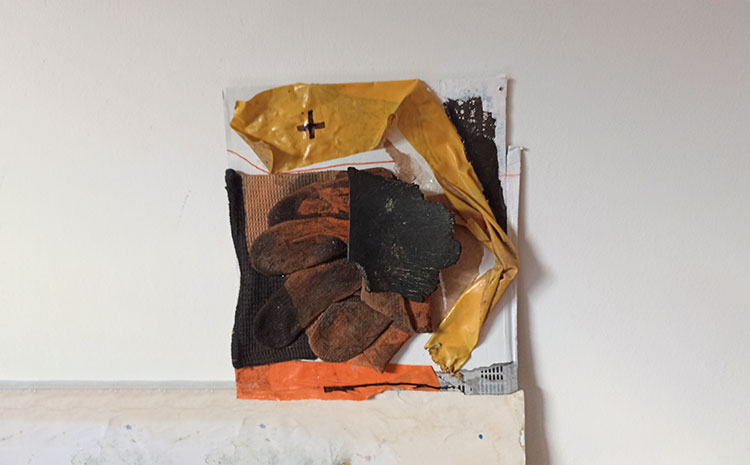 An Artist's Journey Through Collection and Collaboration
Frédéric Prouff began collecting various materials as a way to document his experiences and share his connection with the world. Initially drawn to the aesthetic qualities of these items, Prouff developed an artistic practice in the visual arts in which he incorporated these objects as symbols of his desire to communicate and shed light on his perception of reality. Prouff gathered a diverse range of seemingly insignificant or discarded objects, with the intention of using them in his artwork. He believed that the abundance of both natural and man-made elements that we encounter on a daily basis can be endlessly inspiring, and yet we continue to fuel a cycle of overproduction and waste.
Frédéric Prouff is particularly satisfied with the progress he has made in his artistic endeavors over the past two years. As a self-taught artist, he has been able to cultivate a creative dynamic that has allowed him to gain recognition from esteemed colleagues. Additionally, he has had the opportunity to collaborate with some of these artists, which has further enhanced his sense of accomplishment. It is especially rewarding to him that he has been able to establish these connections and partnerships after initially starting from a position of obscurity, with few opportunities for publication or collaboration. The growth he has experienced in his artistic journey has allowed him to engage with the world in a more meaningful and reciprocal manner, fostering a sense of community and collaboration.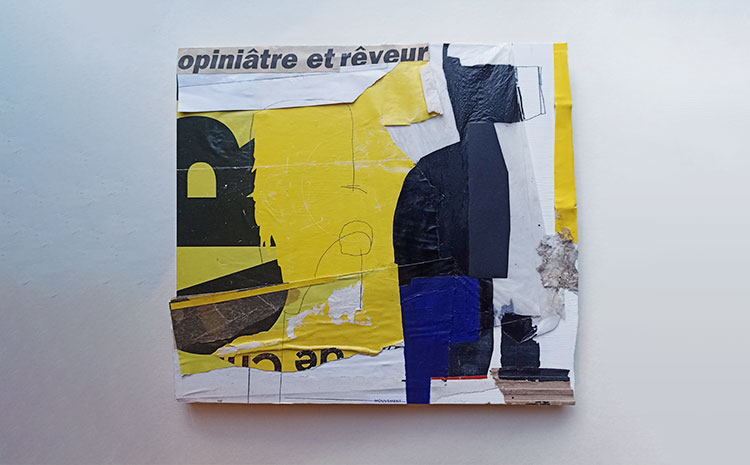 Frédéric Prouff's AtelierBarbu and Collaborative Exhibitions
Frédéric Prouff is passionate about continuing and evolving his artistic production. He hopes to refine the distinctiveness of his work and increase its visibility, as he has only exhibited his art through social media thus far. One specific project that he is excited to pursue is the AtelierBarbu, an exhibition in 2023 featuring a collaborative effort inspired by a series of letters exchanged between Prouff and eleven other artists, featuring quotes from the poet Francis Sponge. Prouff also hopes to have the opportunity to participate in other collaborative exhibitions in galleries, as these experiences hold great personal significance to him in terms of solidifying his identity as an artist and fostering meaningful connections with others in the art community.