"True artistry is a reflection of one's personal experiences, emotions, and unique perspective on the world."
The Artistic Evolution of an Abstract Expressionist
Born in 1953 in Perth, Western Australia, Dianne Lofts-Taylor's artistic journey was shaped from her earliest years. Born into a large family where she was the only girl, she found solace and expression in the realm of art. Her earliest memories of this immersion involve precious china horses belonging to her grandmother. She was the only one allowed to remove them from the cabinet allowing her to draw them for hours on end.
At the age of seventeen, Lofts-Taylor's artistic world expanded exponentially when her aunt Joan May Campbell, a practicing artist, returned from London. This relationship not only served as an introduction to the broader art world, with frequent visits to various art galleries around Perth, but also matured into a deep bond between them as fellow artists. Until Joan's passing in 2015, the pair delved into topics ranging from art history, a subject her aunt taught at university level, to the minutiae of painting. They actively pursued opportunities to showcase their work, connect with other artists and engage with community art groups. Participation in local art competitions and gallery exhibitions, allowed Lofts-Taylor to gain visibility and establish a network of art enthusiasts who shared her passion.
Creativity has remained a constant companion throughout Lofts-Taylor's life, manifesting in diverse forms from sewing to ceramics. Her commitment and interest in all things creative, steered her towards studying art and gaining a Bachelor of Art (Fine Arts) at Curtin University of Western Australia. This rigorous academic training furnished her with a comprehensive understanding of art's formal elements and the history of art, all serving as a fertile source of aspiration.
The influences on Lofts-Taylor's work extend far beyond the academic realm. The unique visual compositions that characterize her abstract paintings are products of her life experiences and not merely the result of her formal education. She fervently believes that true artistry emanates from the artist's embodied memories of personal experiences, emotions, and individual worldviews garnered over the course of one's life. Her many travel adventures, encounters with various cultures, and interactions with diverse individuals have all left indelible marks on her artistic sensibility. Likewise, her roles as a mother and grandmother have significantly shaped her approach to art and life.
In 2005, at the age of 52, Lofts-Taylor realised her lifelong dream of attending art school. After graduating in 2010, she embarked on a journey to appreciate the work of the great European artists in person, travelling to Spain, Italy, France, Great Britanin, Scotland and Ireland, and even spending a month in the South African bush with the sacred white lions of Timbavati.
Lofts-Taylor's art is also deeply entwined with her spiritual connection to life, the planet, and consciousness. Deeply philosophical discussions with her aunt Joan played a significant part in her journey of self-discovery and introspection, and these themes make up the foundational ideas underpinning her work. In the beginning, her interest in art, was the "human condition" and she endeavored to express this through painting the human form and portraiture, before pursuing abstraction some years later. Her work encourages and invites viewers to grapple with the deeper aspects of their own existence.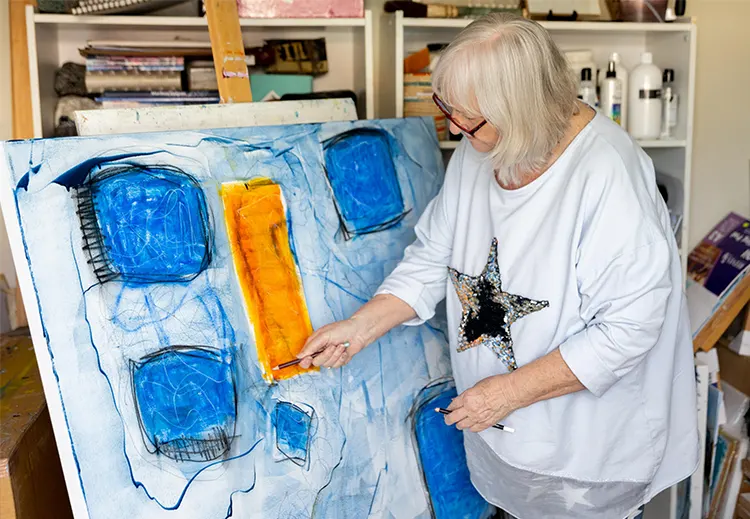 Dianne Lofts-Taylor: Embracing the Beauty of Abstract Landscapes
Dianne Lofts-Taylor's abstract art practice is a sublime blend of intuitive dialogue and emotional expression, manifested in the varied use of lines, colours, textures, and shapes. Her creative process is steeped in imaginative play, characterized by the application and removal of different compositional elements, improvising with tools such as spray paint, sandpaper, scrapers, palette knives, pens, pencils, and crayons, whatever she can lay her hands on really. This ongoing conversation with her canvas sees her oscillating between spontaneous impulses and considered mark-making.
Her abstract creations draw inspiration from diverse environments that she has interacted with – the familiar domestic spaces, the vast psychological terrains, industrial and urban landscapes, and the raw beauty of the natural world. These influences, both external and embodied shape her work and identity as an abstract expressionist. She embraces artistry as a journey of well-being, perpetual growth and exploration.
The transition from realism to abstraction has been a critical phase in Lofts-Taylor's artistic evolution. Trained in portraiture, she continues to incorporate elements such as symmetry, composition, balance, and emotional resonance into her abstract oeuvre. The transformation of shapes, lines, and colours under her deft touch forges compelling visual narratives that stir a myriad of emotions in the viewer.
Lofts-Taylor's inspiration is as vast as the sublime landscapes she has lived in. From the raw, unbridled beauty of the Southern and Indian oceans to the awe inspiring Australian deserts. Nature's vivacious hues render the feelings of insignificance amidst the beauty of nature's expansiveness, have served as significant sources of creative inspiration. Her lived experiences have led to a series of abstract paintings reflecting and suggesting land and seascapes.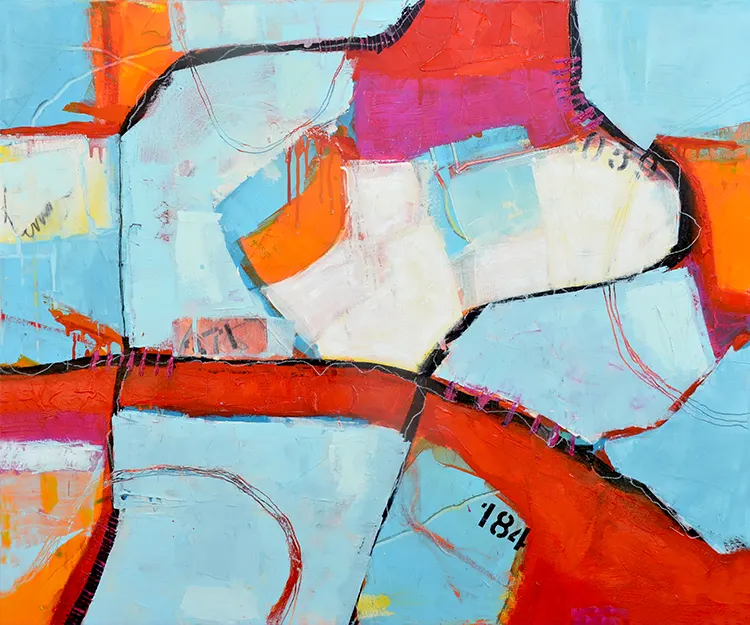 Discovering the Essence of Oils and Cold Wax Medium
Lofts-Taylor's artistic journey commenced with the use of oil paints, a medium chosen initially out of admiration for Joan May Campbell's work. Like any inquisitive artist, she has explored other mediums along her journey, including acrylics, pastels, charcoal, spray paint, and mixed media. Each medium, with its unique qualities and challenges, has imparted valuable lessons that have further honed her skills.
Yet, it is oil paint with the addition of cold wax medium that resonates with her artistic spirit. The fusion of these elements serves as a testament to Dianne Lofts-Taylor's evolution as an artist, from her initial explorations to her current mature, sophisticated style.
In Dianne Lofts-Taylor's perspective, the luminous quality of oils offer a dimension of life and vibrancy to her paintings, a characteristic she finds lacking in acrylics. She questions the rationale behind the use of acrylic paints and costly additives to emulate the effect effortlessly achieved through oils. To her, the decision is straightforward and unambiguous.
A noteworthy technique Lofts-Taylor utilizes is the incorporation of Cold Wax Medium, which imparts a matte, dry quality to certain areas of her work. This enables the artist to generate an intriguing dichotomy between glossy, smooth shapes and surfaces to the more texturally contrasted matte areas. Through this technique, Lofts-Taylor authentically communicates her artistic vision, producing bold abstract landscapes with interesting surface materiality that have defined her signature style.
Dianne Lofts-Taylor: Life in the Studio
Lofts-Taylor's studio has become her sacred workspace and she acknowledges its pivotal role in her overall well-being. influencing her productivity and artistic flow.
Lofts-Taylor's diligent studio routine, is designed to prime her for a painting session, commencing with a 15-20 minute period of meditation. This practice effectively centers her, ensuring the studio space is the singular focus of her attention. All external distractions are silenced, allowing the artist to engage fully with her work.
Another essential element to her arts practice is her Studio Notebook. Within it, Lofts-Taylor records the date, instructions and intentions for the painting session, a valuable process she believes conditions her for the evolution of her artwork and sets the tone for achieving her goals for each painting.
For example, her entries might include prompts such as: use bold, visible brush strokes or incorporating specific colors like; "use black, bright yellow, or turquoise", along with encouraging notes like "be brave!!"and "you've got this." Additionally, her notes might include practical tasks to be accomplished, like "apply a varnish coat to finished works" or "buy necessary materials" Once recorded, the notebook is put away, signalling the beginning of her creative process.
Music plays an integral part in Lofts-Taylor's practice. She finds that familiar tunes from the likes of Sam Cooke, Van Morrison, Creedence Clearwater Revival, Simon & Garfunkel, Marty Robbins and various others, serve as catalysts, transporting her into a creative fertile "zone."
She firmly believes in the importance of organization. Having her tools and materials organized allows her to navigate her workspace with ease which is paramount to successful painting. Furthermore, she ensures the space is tidied after each session, maintaining the sanctity of her creative environment. Thus, each time she returns to her studio, she steps into a fresh and sacred space, poised to create her next masterpiece.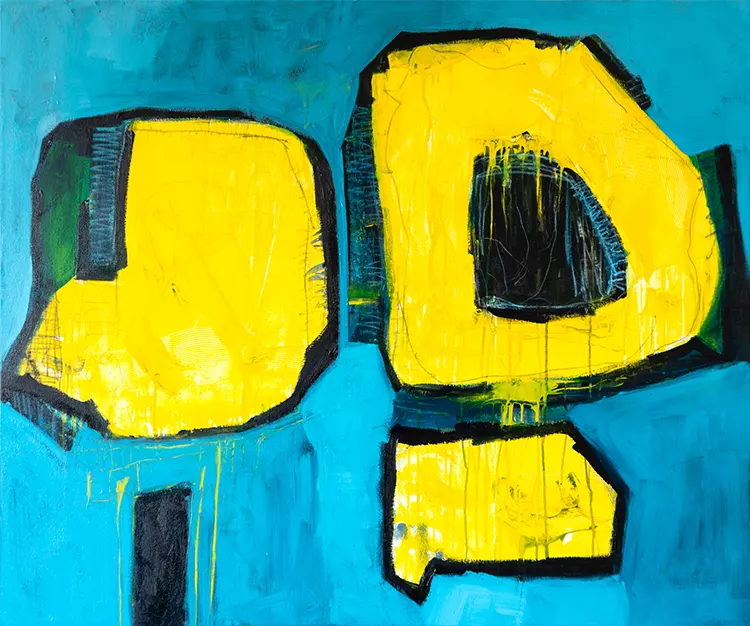 The Influential Artists
Dianne Lofts-Taylor's artistic vision has been significantly shaped, more recently by a constellation of creative luminaries. Discovering them through YouTube; Nicholas Wilton – Art2Life, Lori Mirabelli, Pamela Caughey – Art and Success, and Brian Rutenberg have left indelible marks on her abstract aesthetic and techniques. Moreover, she also cites the profound influence of the iconic Australian artist Brett Whitely, as well as several pioneers of American Abstract Expressionism such as Willem de Kooning, Robert Motherwell, Jackson Pollock, Mark Rothko, among others, including Cy Twombly and Philip Guston.
In particular, Brett Whitely's work holds a special resonance for her. His ability to challenge the viewer and his fearlessness in capturing both the agony and ecstasy that exists within the human psyche, are aspects of his oeuvre that she deeply admires. Her admiration for Whitely is especially evident when considering the works he produced during the early 1960's such as:
'Christie & Zoo' series from 1964, where the raw emotion, delicate nuances, and distorted images show his ability to capture a specific event, evoking strong emotional responses from the viewer, leaving a lasting impression.
'Bathroom Series' of 1963. His expert use of color harmony and contrasts, his daring and engaging manipulation of form and space—these elements have provided vital sparks and insights for her own artistic exploration.
Whitely's 'Abstractions', a series created between 1961-63 while he resided in Italy, have also greatly informed her understanding of abstracted landscapes.
Lofts-Taylor has long nurtured a dream: to one day paint on super large canvases within the walls of a spacious studio, preferably overlooking the endless blues of the Indian Ocean contrasted against the orange skies as the sun sets over the ocean on the west coast. It is a vision that continues to inspire her, capturing the vibrant colours of nature, hinting at the grand scope of her aspirations as an artist… and maybe an exhibition in a gallery in New York or London… one day.