"What I love about Rembrandt and Vermeer is their use of dramatic light to tell a story and drag you in. And my God, Rembrandt's strokes are pure genius!"
A Balancing Act of IT Professional and Passionate Artist
Dennis Pfeil is a 32-year-old artist who is a parent to two young children. His interest in the creative arts led him to begin experimenting with traditional mediums in early 2020, prior to which he primarily utilized digital tools to produce his works. His passion for painting runs parallel to his profession in process design within the IT industry, though he entertains the possibility of it becoming his primary vocation in the future. His dedication towards his craft is unwavering, despite it currently being relegated to a hobby. Additionally, he initiated the "Foodpaintchallenge" on Instagram, approximately two years ago as a means to motivate himself to continue honing his abilities. The challenge comprises of weekly prompts, accompanied by his personal interpretation, to which he extends an invitation to the public to participate by creating their own works based on the reference image provided. He assures that there are no copyright restrictions and individuals are free to use the image as they see fit, including the potential sale of their creations.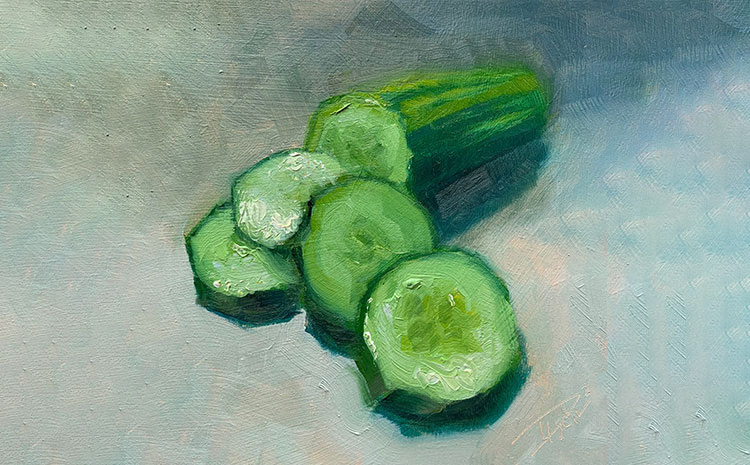 The Dutch Masters and a Passion for Food Still-Life Painting
Dennis Pfeil lives near Amsterdam, Netherlands, and is constantly surrounded by an abundance of cultural and artistic inspiration. The 17th century architecture that still stands in his city, coupled with the numerous museums displaying works by renowned Dutch Masters such as Rembrandt, Vermeer, and Van Gogh, serve as an ongoing source of stimulation for his creative endeavors. Specifically, he finds himself particularly drawn to the masterful use of light in the works of Rembrandt and Vermeer, as well as the dynamic color combinations employed by Van Gogh. Furthermore, Vermeer's intricate attention to detail and ability to convey a sense of softness and warmth in his paintings never cease to amaze him, particularly considering the demands of his domestic life with 11 children. Overall, his Dutch heritage play a significant role in shaping his artistic perspective and influencing his creative process.
Pfeil's primary area of focus is the creation of still-life compositions featuring food items. He is particularly drawn to the challenge of imbuing these seemingly mundane objects with a sense of drama and intrigue through the careful manipulation of light and perspective. He believes that the subject of food is a timeless one, and endeavors to infuse his work with a contemporary sensibility. While he also occasionally delves into the realm of portraiture and figurative painting, the demands of his daily life have led him to prioritize the exploration of food as a subject matter. He is constantly honing his craft, dedicating time each week to studying new techniques and experimenting with his medium, which he then applies to both his smaller and larger works.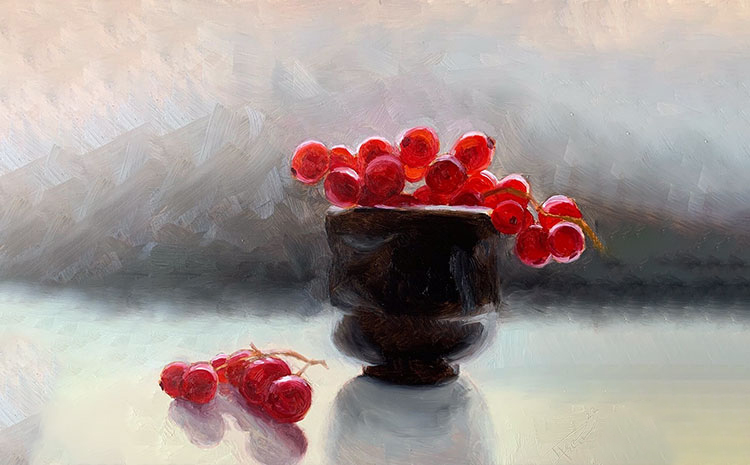 Exploring the Depths of Water-Soluble Oils
Dennis finds inspiration in the most unexpected of places, from the interplay of light and shadow on everyday objects, to the vibrant colors and textures of the natural world. He also finds inspiration in the simple act of going grocery shopping, where the endless possibilities of ingredients and flavors serve as a constant source of inspiration.
Over the course of his artistic journey, Dennis Pfeil's style has undergone a significant evolution. In the early days, he favored larger acrylic paintings that required a significant investment of time and effort to complete. However, as he delved deeper into the medium, he discovered the captivating possibilities of working with water-soluble oils. This medium has allowed him to experiment with smaller alla prima pieces, where he can explore the nuances of brushstrokes and create more profound and textured works. Additionally, the flexibility of oils has enabled him to achieve an array of effects, from smooth gradients to more defined edge work, which has added a new dimension to his artistic expression.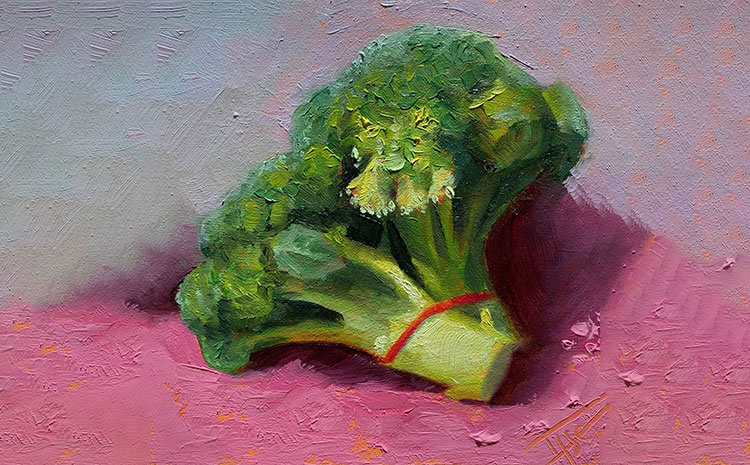 Transformation and Personal Growth Through Art
Dennis is particularly enamored with his most recent masterpiece, an 80x80cm Coconut, which he has spent a considerable amount of time and energy creating. This piece represents a culmination of his artistic journey, as it was painted over an old acrylic painting that he had begun in 2020 but was unable to complete for a period of two years. The process of revitalizing the canvas and transforming it into a work of art that he is proud of and satisfied with has been extremely gratifying.
Dennis Pfeil is contemplating the creation of a grandiose masterpiece that showcases a plethora of mouth-watering delicacies, while also seamlessly weaving in figures that possess the power to evoke deep-seated emotions and resonate with the viewer on a profound level.
Art, undoubtedly, plays a crucial role in enhancing one's overall well-being. Not only does it serve as a means of relaxation and stress relief, but it also imbues one with a heightened sense of perception and appreciation for beauty in the world. Furthermore, it serves as an effective tool for social interaction and can aid in sharpening one's attention to detail. In essence, art can be considered as a catalyst for personal growth and enrichment in various aspects of one's life.