"Artwork has been a way to escape while staying in place. It is also a doorway to self-knowledge and understanding."
Igniting a Passion for Art: Early Beginnings and Influences
Anne Johnstone, an artist with roots in the area just beyond Philadelphia, Pennsylvania, primarily experienced her formative years in New England. Her artistic journey commenced at the tender age of three or four, with vivid memories of drawing by her mother's side. As an artist herself, Johnstone's mother played a pivotal role in fostering her daughter's creative talents, often engaging her and her siblings, in arts and crafts projects around the kitchen table.
Throughout her academic career, Johnstone displayed a particular affinity for art, English, and French, eventually earning a Bachelor of Arts degree in Studio Art. While she did not pursue further formal education in the field, Johnstone has cultivated an unwavering painting practice that spans almost three decades. Her artwork is heavily influenced by her personal experiences and emotions. As an introspective individual with intense emotions, Johnstone has found solace in art, using it as a means to process her feelings and achieve stability. Her artwork serves as both an escape and a conduit for self-discovery and understanding, resulting in pieces that are richly layered, evocative, and prone to lament.
Johnstone's oeuvre includes paintings and drawings in acrylic and oil pastel mediums. She derives inspiration from an eclectic array of artists and styles, such as Thomas Noskowski, Joan Eardley, 20th-century abstract artists Joan Mitchell, Agnes Martin, and Helen Frankenthaler, Abstract Expressionists Egon Schiele and Edvard Munch, Paul Klee, African Art, and South American art. Furthermore, she is invigorated by contemporary artists she follows on Instagram. Her artistic influences reveal a preference for art that explores the human condition, embracing its complexity and profundity with tenderness, while occasionally incorporating a touch of humor.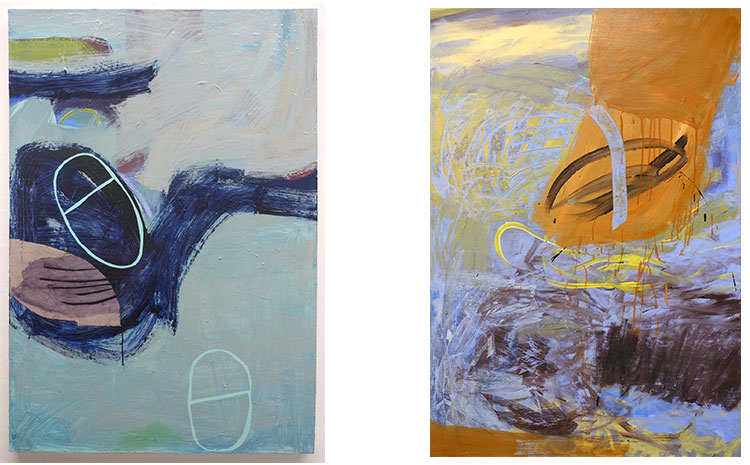 The Power of Color and Emotion in Anne Johnstone's Art
The body of work that Anne Johnstone has produced demonstrates a deep-rooted psychological aspect, wherein emotion serves as a conduit for the expression of psychological states. In her pursuit of artistic excellence, Johnstone seeks to create evocative abstract images that resonate with the inherent yearning present within each viewer. Central to achieving this effect is her meticulous attention to color—its selection, blending, and juxtaposition—eliciting strong emotional responses from her audience.
Johnstone's art is marked by an inextricable connection between color, emotion, and psychology, a synthesis that characterizes both her creative process and personal ethos. This distinctive approach has consistently drawn praise from observers, who frequently remark on the emotive power of her chromatic choices.
The most recent series of abstract works from Johnstone stands as her proudest achievement to date. With each new creation, she delves deeper into her own artistic resistance, confronting both the blank canvas and the challenge of pushing a painting to its full potential. Each piece serves as an opportunity for growth, allowing her to refine her unique visual language and develop a more profound understanding of her craft.
Embracing these challenges with each successive canvas, Johnstone exemplifies the tenacity and passion of a dedicated artist, ever poised to accept and conquer the next creative hurdle.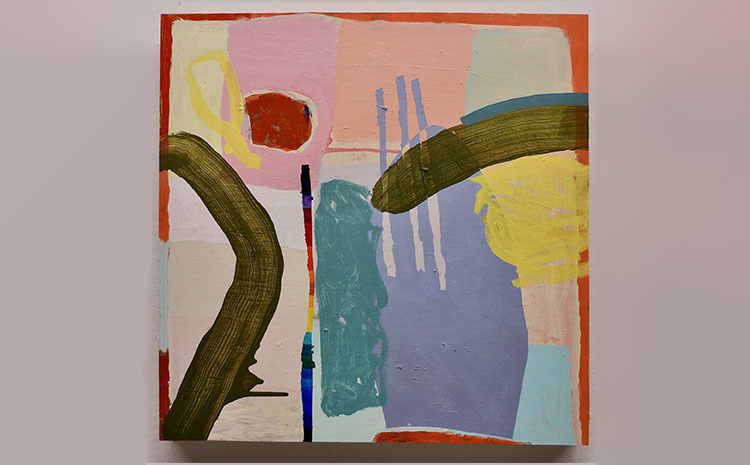 From Figurative Painting to Abstract Expression: A Creative Evolution
Initially, Anne Johnstone delved into the realm of acrylics and mixed media, creating intricate narrative depictions of people, animals, and hybrids of both. In her early works, Johnstone incorporated fragments of supermarket circulars featuring fruit images, adhering them haphazardly to her canvases. From this collage, she discerned the outlines of faces or animals and developed them further with paint, eschewing the use of charcoal sketches.
Johnstone found satisfaction in the transformative nature of painting, as it often led to the modification of the initial image. Upon completing the painting stage, she would douse the canvas in beeswax, which subtly altered the underlying image and presented new creative possibilities. Occasionally, Johnstone would paint over the entire surface, concealing the wax entirely. However, more often than not, she opted for partial coverage, permitting glimpses of the wax and its concealed imagery to emerge.
The resulting paintings exhibited a rich texture and depth, attributable to the multiple layers of wax and paint. Familiar subject matter and emotionally charged content further enhanced the allure of Johnstone's creations. During open studio events, visitors were drawn to her work, in part due to their ability to identify tangible objects within the intricate compositions.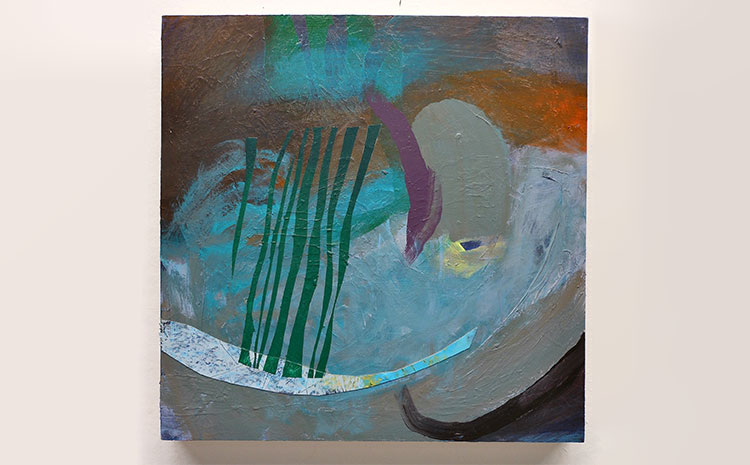 The Ideal Workspace and Aspirations for a Global Artistic Impact
Over the course of nearly two decades, Anne Johnstone cultivated her talents in figurative painting before transitioning to the realm of abstract art. The allure and simultaneous unease she experiences with abstraction stems from the perpetual exploration of the unknown. Johnstone's abstractions serve as manifestations of a mind striving to understand and trust itself, often exuding a spiritual essence. The birth of these creations frequently involves a significant measure of frustration and challenge. At times, Johnstone may find a completed piece unfulfilling and consequently paints over it, occasionally doing so multiple times. Abstraction compels her to confront the limitations of her knowledge, encouraging her to delve into the messy complexities of her craft. Interestingly, despite the absence of human form in her abstract work, each painting stands as a self-portrait.
In terms of her preferred workspace, Johnstone thrives in an environment characterized by lofty ceilings and expansive windows, allowing her to work in solitude, typically without the accompaniment of music. The ideal setting would offer ample wall space for both displaying completed works and sketching on paper, as well as accommodating numerous easels and tables. Movable walls provide additional flexibility, while generous storage options maintain organization. A well-ventilated area designated for spray painting is essential, alongside a kitchenette featuring a stove for tea preparation and a compact refrigerator. A cozy relaxation area, complete with a couch, lounge chair, rug, and coffee table, adds a touch of comfort, and the presence of verdant, leafy plants contributes to the studio's atmosphere.
Johnstone's ultimate artistic aspiration involves the global installation of large-scale billboards showcasing abstract art from international creators, accompanied by thought-provoking and humorous quotes. These installations would appear in urban and rural settings alike, encouraging passersby to pause, appreciate the art, and indulge in a moment of laughter while reconsidering their initial perceptions.